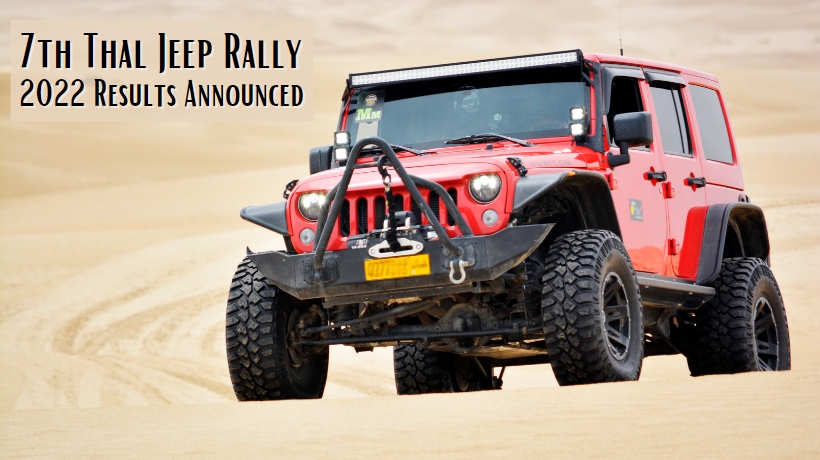 Seventh Thal Jeep Rally took place in districts of Layyah and Muzaffargarh recently and has been concluded today. Thal jeep rally 2022 was organized by Tourism Development Corporation Punjab (TDCP). The racers, car enthusiasts and all kind of media personal gathered from all over the country in Thal desert for the event. To be exact total 38 stock category vehicles participated in race.
The Thal desert rally concluded today and final winners have been announced which are as follows.
| | | |
| --- | --- | --- |
| Position | Racer | Time to Finish line |
| 1st Position | Mir Nadir Khan Magsi | 2 Hours 10 Mins 15 Seconds |
| 2nd Position | Asif Fazal Chaudhry | 2 Hours 12 Mins 32 Seconds |
| 3rd Position | Muhammad Jaffar Magsi | 2 Hours 50 Mins 16 Seconds |
A special musical night and prize distribution ceremony also organized by TDCP in Muzaffargarh. As we mentioned earlier as well in an previous article about thal jeep rally 2022 such event are for the economies of remote districts and town in which they happen. So such events should keep happening.
As I mentioned several times, in Pakistan people does not have much sources or places of live entertainment where they can go and spend a weekend with their family. Also there aren't much events like this happening. May be due to the security situation country had mostly from last two decades, specially in 2000s and 2010 and than later Covid-19 made things worse, however, now things must normalize.
Keep coming back to this article, we will post more details about the results or event on the whole, as we receive them.