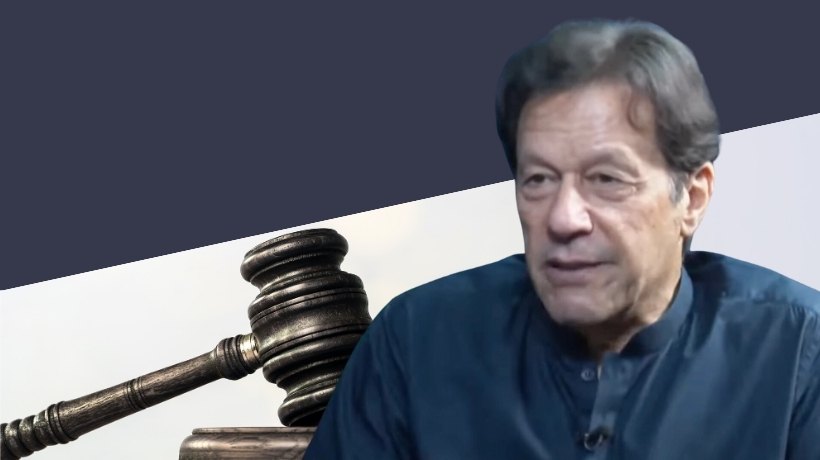 Today a trial court of Islamabad declared Imran Khan guilty in the toshakhana case. So court sentenced Imran Khan of three years in prison and Rs. 100,000 fine. Also he was disqualified to hold any public office for the term of five years.
In Islamabad this decision was just conveyed, not handed over to anyone yet, within matter of few minutes Punjab Police reached the Zaman Park residence of Imran Khan to arrest him. According to a tweet by PTI's official twitter account, Police made forced entry in to the zaman park, they misbehaved and even beaten the staff, while they were busy in doing this, Imran Khan came out and told the police he is ready to be arrested, why you guys are doing all this. Soon police arrested him, they pushed him around and also put the cloth on his face. The tweet in question is as follows.
The decision of the three year sentence and fine etc was made by the Additional Session Judge Humayun Dilawar. An arrest warrant was issued for the arrest of Pakistan Tehreek-e-Insaf (PTI) chairman Imran Khan. According to the warrant, Imran Khan was to be arrested and was to be taken to Adiala Jail in Rawalpindi.
However, later it was revealed by the authorities that Imran Khan was being shifted to Attock Jail instead. Imran Khan, who was expecting this arrest, recorded a special video message for fellow Pakistanis and his followers before arrest. The message was released after Imran Khan was arrested. The message is as follows.
In his message, Imran Khan said that when this message will reach you, they would have arrested me and I will be in jail. You do not have to sit at your homes, whatever I am doing, I am doing it for you and doing it for better future of your children. If you will not stand for your rights, you will spend the life slaves and there is no life of slaves. Slaves are like the ants on the ground, they cannot fly higher than ground.
He further said, Pakistan was name of a big dream, there was an associated slogan, what is the meaning of Pakistan, La ila ha illalah (there is no god but Allah). We do not have to bow down in front of any human, La ila ha illalah frees us from the slavery of any human. And our Prophet Muhammad (PBUH) in the state of Madina on first priority freed the human by providing the fairness and justice to everyone. This is the battle of justice, battle of your rights and freedom.
Continuing his speech Imran Khan said, always remember, no one will give you freedom in a plate, as I say, the chains do not drop, they have to be broken. You have to keep protesting peacefully until you are not given your right. Your right of voting and selecting the political party of your own choice to head the country in the next term. So no mafia can occupy your country, like they have done this right now. Thank you very much.
So clearly in his message, Imran Khan told the people of Pakistan to come out an protest for their rights. Specially the right of voting in, the party which they like the most. However, he insisted that the protest should always be peaceful.
Imran Khan's lawyers were highly displeased about the decision. According to them the decision do not stand a chance in higher courts.