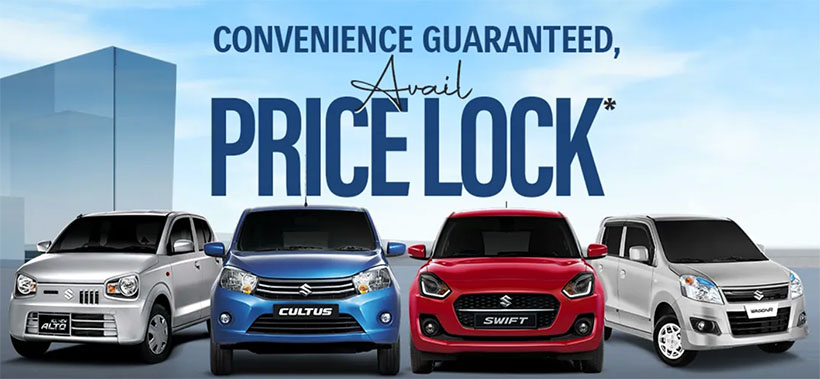 In past two to three years, the prices of all kinds of vehicles, including cars, have increased very much rapidly. There are several factors involve in this, those factors being the local inflation in the country and specially the decline of local Pakistani Currency, Pakistani Rupee (PKR), against US dollar and the other world currencies.
Obviously as most of Pakistani automakers import the Completely Knocked Down (CKD) car kits and then manufacture them locally in to a finally produced vehicle, the impact of local currency devaluation is very high on the car prices.
So, due to rapidly increasing car prices in last two to three years, people's power to buy the cars have gone down significantly. Due to this the sales of cars of all local companies is down to bare minimum. These companies are now offering people with different kind of incentives to boost the sales.
In a similar initiative Suzuki Pakistan have offered the price lock feature for all cars booked in August 2023. If you book your car in August 2023, car will be delivered on the same price it was booked. This offer is valid on most of Pak Suzuki vehicle models and variants except Cultus VXR.
However, whenever you reach a showroom of Pak Suzuki for booking of car, reconfirm the exact terms of the agreement. Though, Pak Suzuki is aggressively promoting this offer, there may be some special applicable terms and conditions.
Offer is overall very good, in times when prices are increasing rapidly every now and then, if you can get price lock and peace of mind along with that, nothing is better than that.
Pak Suzuki is offering few other incentives for the customers on purchase of several vehicles in the month of August and some of these offers can go beyond. For example, on exchange of any car to buy suzuki swift, Pak Suzuki is offering Rs. 150,000 bonus in addition to the value of your old car. Similarly, on exchange of any car to buy Suzuki WagonR Pak Suzuki is offering bonus of Rs. 100,000 and free registration. There is no time limit on these two offers right now but that means they can go away anytime, so be fast to avail them.
Pak Suzuki is also offering free registration on WagonR and Cultus, if bought in August 2023. Also this offer on cultus is only valid for corporate sales, means if car is being bought via a bank or a company is buying this car. However, WagonR free registration offer is for all kind of purchases.
Pak Suzuki is also offering immediate delivery of Suzuki Bolan and Suzuki Ravi if purchased now. In another offer, if you purchase a car installments via partnership of HBL and Pak Suzuki, you will save up 600,000 Rs on installments when compared to other banks. Full information about this offer is available on all Pak Suzuki showrooms.
For bikes as well Pak Suzuki is offering 0% markup plan comprised of two years term and it requires 35% upfront payment.
We have dedicated car prices pages, which we keep updated all the time. You might be interested in prices of different cars and vehicles, so links to few of them are follows.