A test series being played between Pakistan and England in Pakistan, as England is on visit a visit to Pakistan. First match is about to start, it will go from 1st to 5th december. Sale of tickets is open already. You can buy the tickets on for any day from 1st to 5th. One ticket will be valid for the one day, for the day it was bought.
You can buy these tickets online on bookme.pk website, to be exact on pcb.bookme.pk and even you can choose the seat of your liking in enclosure of your choice. Of course seat selection availability of ticket is based on how much tickets already sold and which seats have not been selected yet.
Book me have a nice seat selection tool, which looks like following and lets you choose your favorite seats in enclosure of your choice.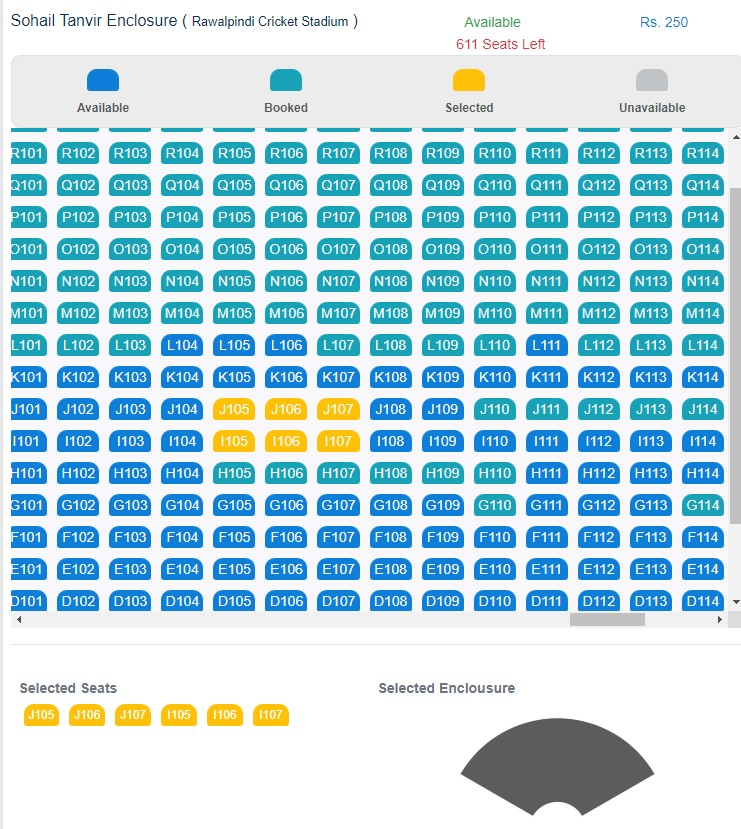 On time of writing of this article 611 seats were left in sohail tanveer enclosure and overall about 1100 seats were left for day 1. So hurry up if you are looking join the party and get in on day 1. For remaining days more seats are available, they will keep on selling as match progresses.
For now, on time of writing of this article, booking for only first test match is open, however, if you are looking at this article on a later time and interested in watching other matches of series, do check the website, the booking for other matches may also be open.