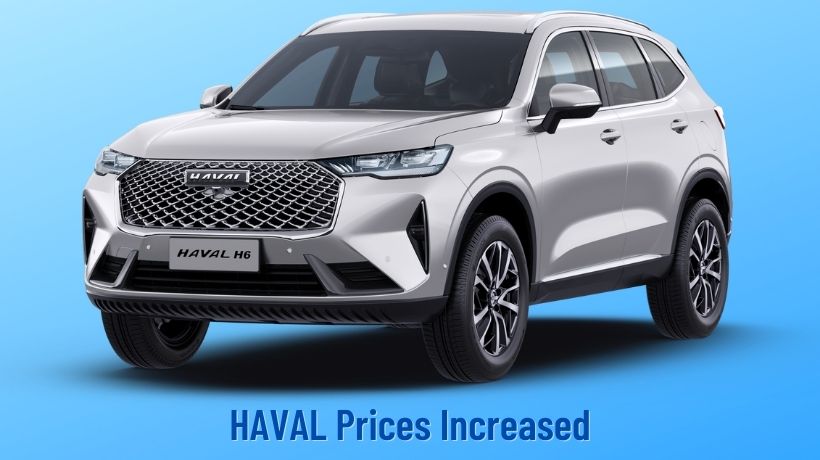 Currently Pakistan's economy is not doing very well. The currency value is depreciating fast. There are restrictions on all kinds of imports including completely knocked down (CKD) vehicles. Some direct and some due to restrictions and difficulting in opening of the Letters of credits (LCs) for imports. These all factors have increased the costs of all the auto manufacturers of Pakistan. Which have resulted in almost all companies increasing their vehicle prices.
In a similar move Haval Pakistan have recently increased its vehicle prices in Pakistan. Details of these increases are as follows.
Haval H6 Prices Increased
| Vehicle | Current Price | Old Price | Difference |
| --- | --- | --- | --- |
| Haval H6 1.5 | 8,449,000 | 7,425,000 | 1,024,000 |
| Haval H6 2.0 | 9,649,000 | 8,499,000 | 1,150,000 |
| Haval H6 HEV | 10,995,000 | 9,749,000 | 1,246,000 |
These new prices will be applicable from Feb 01, 2023 and onwards. However, these prices will also be applicable on all the H6 1.5 and 2.0 variants bought after Jan 5, 2023 and all the H6 HEV bought after the Jan 06, 2023. However, anyone who have already booked their Haval H6 in Jan and pays the difference until Feb 15, 2023, they will be entitled to special discounted interim prices.
Increase in prices of cars by other automakers
As described above, due to costs increase, all auto manufacturers of Pakistan are forced to increased their car prices. Jan and Feb 2023 have been very busy months in this regard. Following are list of few other car prices increases which took place in months of Jan and Feb 2023. More are expected. Toyota in following list have increased their prices two time in Jan 2023, there are chances other companies may also increase their prices once again due to their increasing costs as result of ever decreasing local currency values and other factors, some of which are described above.
Do follow our push notifications via bell icon on the bottom right corner of your screen to keep yourself updated with latest cars and bikes prices updates and much more useful and informative stuff.