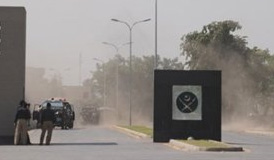 On Sunday the GHQ Rawalpindi operation came to an end when the armed forces successfully freed up 39 hostages held by the militants. However three of the hostages were killed by the militants and also four of militants were killed on Sunday.
For those who don't know much of the story, on Saturday around mid day nine terrorists were entered into Army General Head Quarters, Rawalpindi. They were in Army uniforms and were fully loaded with weapons, while they were entering into the GHQ area when security personal asked them to show the identity they opened fire on them and passed the first check-post on first gate. But while moving further inside they were unable to penetrate further on second check post without having damage.
On second check post four of the terrorists were killed but five of them were able to escape inside the nearby buildings inside the GHQ. In the process on Saturday overall four terrorists and six Army men were killed. Soon after Pakistan Army backed with helicopters and commandos started the search operation to locate the remaining five people.
On other hand these remaining five militants held 42 people as hostages in one of GHQ buildings. On Sunday the Army men had already located them and gone for a decisive operation against them. In the process Army men were able to get 39 of hostages free and 3 of hostages were died. Also on Sunday as well four of militants were killed and one was caught alive.
The person caught alive told his name as Aqeel and was known with his nick Dr. Usman. He revealed that he was also involved in several other terrorists activities which took place in the past. This way Pakistan army took the all nine terrorists down and given a strong message that even they have to die, they will not let any of country's enemies capitalize. May the souls of all innocents died in this bloodshed rest in peace and may Allah bless their families strength to deal with the loss and pain.