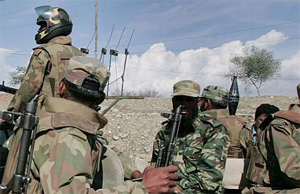 Pakistan Army is going to launch a battle in South Waziristan in few days. According to Pakistan Army Spokesman this battle was being planned from last 3 months and now in few days Pakistan Army will clean up south Waziristan from the militants. This the toughest strong hold of Taliban Militants and this battle will not be piece of cake.
Last three months Army had been planning about this battle and studied the on ground situation and now is left with no other option. If Pakistan Army does not go for it, the battle will be enforced by the militants hiding in that location. Already in swat and other areas Pakistan Army have done so well in grabbing back the land from these militants and making the lives easier for the local people.
Apparently this battle will require much more power demonstration from the Army as this will be much more toughest. This is also being termed as "Mother of All battles" by many.