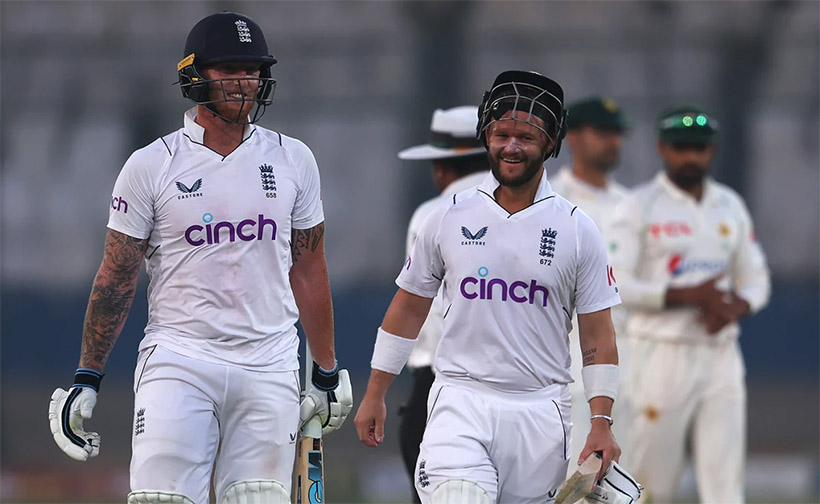 England is on tour of Pakistan and was currently playing third test match against Pakistan. Third test match was being played on Pakistani soil in the National Stadium Karachi. Infact with winning the third match as well, England clean sweeped the three nil series victory as they had won first and second tests as well against Pakistan.
Today was just the fourth day of third test match. As the play for the day started, England was playing its second innings and it needed just 55 more runs to win the match and it had 8 wickets in hand. As Pakistan had played both its innings and for England's second innings they had got target of 167 runs. England had already scored 112 runs yesterday with the loss of two wickets, so they already had ensured the victory on the third day of match.
Today team England achieved the target without losing any more wickets. For England's second innings top scorer was Ben Duckett, he scored 82 runs and remained not out. Zak Crawley the other opener scored 41 runs on 41 balls and got out. Rehan Ahmed scored just 10 runs. Ben Stokes scored 35 on 43 balls and remained not out. So, this way, very easily england achieved the target.
From Pakistani bowling side, the only wicket taker in England's second innings was Abrar Ahmed, he took two wickets. Abrar Ahmed took the wickets of Zak Crawley as well as Rehan Ahmed.
Previously, Pakistan had won the toss and elected to bat first. On the first day of match Pakistan scored 304 runs and all team got out near the end of the day. Next day england's whole team got out after scoring 354 runs in their first innings. The third day of match was much more happening day. On the third day england, which already had 50 runs lead from previous innings, was able to send back all Pakistani batters after scoring just 214 runs. This way the final target for England was 167 runs, which they achieved today very easily.
This brings up test series victory, three nil, for England against Pakistan. It is a big achievement for them, as they did it on tour to Pakistan. Kudos for them. For team Pakistan, they need to learn from their mistakes and need to up their game. They have two test match and three one day series coming up against New Zealand. Hope, they can give better performance in that.
Pakistan have also discover a new star spinner, who performed exceptional after his international test debut in second test match. In the very first innings in which he bowled, he took first seven wickets of England and surprised the cricket fans. After that he consistently been to the or at least among top wicket takers in all innings in which Pakistan bowled.
Pakistan should not take this three nil series win lightly, both the management and the players need to work on identifying the weaknesses and need to work on them to turn them into the strengths or atleast get rid of them so these embarrassing back to back defeats are not repeated again.