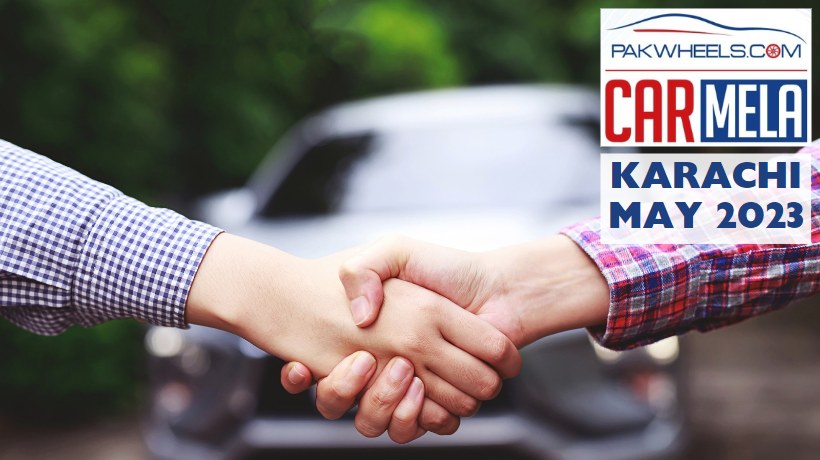 PakWheels have recently announced a car mela to be held in Karachi. They have also most recently announced the exact date and venue for the car mela to be held in Karachi in May 2023. Car Mela is a type of PakWheels event, where people gather to buy and sell the cars. The people who are interested in selling the car, register their cars with PakWheels for participation in the event. One day before the event, all the cars which are already registered are parked at the venue. On the event day, people come and deal with the car owners to buy the cars.
Based on the space available, sellers can bring the cars which to be sold, even on the event day but usually fee is higher for them. Also they may not get a chance due to unavailability of space. PakWheels Karachi Car Mela for May 2023 will be held at Expo Center Hall No. 5, Main University Road, Block 15, Gulshan-e-Iqbal, Karachi on Sunday, May 14, 2023. Timings for the car mela are from 11:00 AM to 07:00 PM.
Update (May 14, 2023): Pakwheels Karachi Car Mela, which had to take place on May 14, 2023, has been postponed till further notice due to prevailing political situation in the country.
PakWheels' services like PakWheels car inspection service will be available for any one interested, right there at the event. Also amazingly, PakWheels is offering 50% discount on the car inspection service, when availed during the event. Also PakWheels is offering 30% discount on car care products like 'all purpose cleaner', car shampoo and more, again, if bought during the car mela event.
Process for Registration
For anyone interested in buying a car or anyone who just wants to attend the event, entry for them will be absolutely free. However, people interested in selling their car or vehicle at the event, will have to pay a fee. Fee details are listed down on this page.
So the car registration process for the sellers is as follows.
Fill PakWheels Karachi car mela (May 2023) registration form
After filling out the form, wait for a call from a PakWheels representative. However, if you miss the call, call the PakWheels helpline at 042 111 943 357
After talking to PakWheels representative on the phone, pay the amount in PakWheels' Bank Alfalah account with IBAN: PK83ALFH0028001004507309
After payment, again call PakWheels helpline to inform that the payment has been done, so that payment can be verified and a code can be sent via SMS
Once payment is done and verified, your spot at PakWheels Car Mela will be confirmed
Payment, once done and spot confirmed, payment will not be refundable anymore
Registration Fee details for Pakwheels Karachi Car Mela for May 2023
Charges for different categories of cars and other vehicles are as follows for pre-booking period, which will end on May 12, 6:00 PM, are as follows.
For cars up to 2000 CC: Rs. 2000 PKR
For cars up to 2500 CC or SUVs, Crossovers, Jeeps and German Cars of any CC range: Rs 2500 PKR
After pre-booking period is over, i.e. after May 12, 6:00 PM, for all the bookings, charges will be Rs. 3000 PKR regardless of engine CC or type of your vehicle. So, to avail the discount, try to book before the pre-booking period ends.
According to PakWheels, all these charges are non refundable. Also there are limited booking slots available, registration or booking will close as soon as all the available slots are filled.
Do you know, Honda Pakistan have increased the prices for their bikes recently. If you are interested in knowing, check the latest honda bike prices.