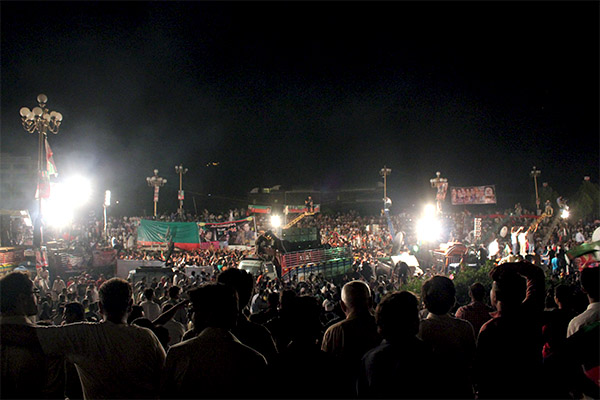 Its now m0re than a week after Pakistan Tehreek-e-Insaf (PTI) and Pakistan Awami Tehreek (PAT) have launched their Marches/Rallies against the current governing party in Pakistan on charges of rigging in 2013 elections. The rallies had started on 14th August from Lahore and Marched all the way to Islamabad.
Both involved parties including PTI of Imran Khan and PAT of Dr. Qadri are demanding resignations from Shehbaz Sharif (Chief Minister Punjab) and his brother Nawaz Sharif who happens to be current prime minister of the country. The reason is both parties want in details investigations about rigged 2013 general elections in Pakistan as well as recounting in different territories of country, however according to both parties Nawaz Sharif and Shehbaz Sharif still on there seats are threat to free and fair recounting as well as investigations.
On other hand government is also standing firm, they have categorically denied giving any resignations. They have deployed several tens of thousands of policemen and other security officials on places of Azadi and Inqilab marches sit-ins. In result of pressures from other political forces Govt still have not resorted to use of power however they are doing much to make lives of march participants miserable. Two days earlier government had withdrawn the supply of water containers to March participants and told the PAT and PTI to make their own arrangements. Also ways to Sit-in spots are also blocked by using shipping containers.
Govt seem to have done great research and tried to block every big and small path towards the March Sit-in place called D-Chowk and also referred as Red Zone in context of security. But still people are able to make their way and specially in Azadi March people reach D-Chowk daily. The place where Azadi March of PTI is happening is called Azadi Sqare by PTI workers and supporters.
People participating in both marches are now facing many problems, biggest of them all is staying under open sky, too much away from homes. They have to manage their food, lots would not have a bath from days. Govt have stopped official water supply plus everyday people hear more threats from representatives of government. Still people are on firm positioning and giving message to government that they will leave Azadi and Inqilab Sqares or D-Chowk only in case government consider their demand including the Resignations of Sharif brothers as well as re-elections etc.
Do share your opinions below in comments section, also do follow us on twitter and Facebook from options on right side of this page to stay updated about latest, interesting and useful from Pakistan.
Do Share You