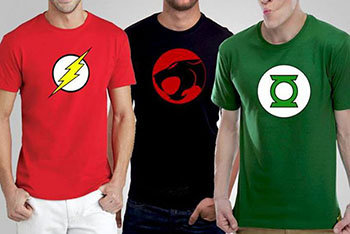 The internet is a buzz with different types of clothes which are selling like hot cakes. There is not another item online that is presently more popular than T-shirts in Pakistan. With so many e-stores now operating in Pakistan, T-shirts seem to have taken the top spot as far as sales are concerned, at least in the summer. This can be attributed to a number of reasons. When you shop for T-shirts online, you can benefit from certain advantages over physical retail stores:
1. You have a multitude of options to choose from: 
In hot summer months, there is no other garment that can make one feel as comfortable as a simple T-shirt. And it doesn't have to be a plain blue coloured V-neck. There is a multitude of options to choose from, all on one page. You no longer have to sift through piles of T-shirts looking for one that appeals to your eye. Displayed in a neat manner on your computer or smartphone screen, you can easily browse through them in one go. You can go for a round neck or a turtleneck. You can choose a horizontally striped one or one that has your favourite cartoon character printed on it. You can also decide between a wise quote and funky graphics that match your taste. The options are endless. Recently, with the increase in demand of customized items, T-shirts with personal pictures collages have also become very common. Virtually any design can be printed on t-shirts. They can be worn with jeans or presented as memorable gifts to your loved ones.
2. T-shirts are available at cheap prices Online
Not only do you find a plethora of T-shirts to choose from, you can purchase them at very cheap prices in Pakistan as there are several online stores competing to offer t-shirts and other apparels at more competitive prices than their competitors. This is also because of the reason that websites like ChillYaar and Getnow offer T-shirts that are usually sold in packs of three, five or more, and these packs can be customized according to your choice. Such bundle offers of t-shirts attract customers who do not want to spend half of their monthly paychecks on clothing items. T-shirts are casual, comfortable garments that can become disposable quite soon. Therefore most people look for deals and bundles that can offer them good value for money. Online stores in Pakistan offer exactly that.
3. T-shirts have standard sizes so you don't need to try them on
T-shirts are manufactured in three or four standard sizes that include small, medium, large and sometimes extra-large. Due to this standard sizing, it becomes extremely easy and convenient to order them online. There is no hassle of trying on a particular size and checking its fitting. Once a person knows his or her size from among the three standard sizes available, he can order as many shirts as he wants.
With so many options available and so many themes to choose from, and that too at such discounted rates, who wouldn't want to order a pack of T-shirts online? Even people who are merely randomly browsing through online clothing websites cannot resist ordering them because the deals are just so tempting. So go ahead, log on to your favourite clothing e-store, choose a pack of t-shirts and don't think twice!