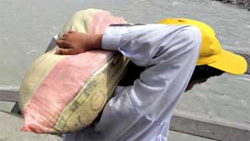 As Pakistan army is to pursue an operation against the militants hiding in the South Waziristan region, fearing the intense fight between Pakistan security forces and the hiding Taliban, 90000 locals have moved out of South Waziristan. The people who came out have been shifted to safe places in the Dera Ismail Khan and tank. It is expected that more people will be leaving their homes in coming soon as the air strikes and the fight on ground is going to be on peak soon.
Previously in Pakistan Army's Operation Rah-e-Raast about two million people had to leave their homes and the shelters were provided by Government in nearby area. Soon after within three months the swat area was cleaned from terrorists and the people were sent back to their homes safely.
As due to the on going operation the life of local residents is now getting difficult. Due to the road blocks and other factors the supply of food and other daily use items is getting difficult, this factor also pushed people to leave the area and more will be leaving soon in search of safe places.