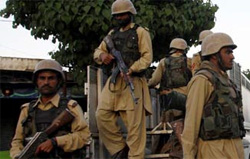 Security forces of Pakistan are now constantly having the attacks on south Waziristan areas to clear up the hiding militants. They have been doing many air attacks from few days to target different enemy positions but now on Friday the security forces also launched the artillery attack along with the air attack.
About 28000 troops have been deployed around the South Waziristan region to cope with the Taliban militants. More of them can be moved in as per requirement. Currently army and air force have been launching attacks to selected enemy positions to weaken their defense. As the time passes the attacks would be intense.
As after security forces had decided to attack and clean South Waziristan region, in past week the militants from the same region have attacked many places in many cities killing the security forces personal and the normal public. These tactics have even further motivated the security forces to kill and clean the militants hiding in the South Waziristan region.