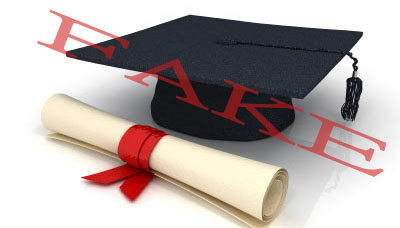 What a disgrace that this country is being run by illiterate idiots who can't even honestly complete their own education honestly. How on earth such illiterate parliamentarian can run the country.
Latest in this regard is that Election Commission have summoned 20 more parliamentarians, among them 13 are from Punjab, Sindh and Baloachistan Assemblies and the Members of national assemblies are  Jawad Hussain, Deewan Aashiq, Mir Ahmed N. Bugti and Hussain Bukhari. Way back in July this year the number of these fake degrees was reached 47 and now we have lots more such cases.
Real insult to injury is that how these evil souls reached to assemblies. Didn't we have a procedure to check the documents of before even they qualify to get elected. Yes we do have procedure but current happenings are clear proof that its very much far from anything effective. A desperate need to bring that verification system up to the mark is still there, hope election commission gets the degrees of candidates verified before they are cleared to take part in elections but not after they have been in government for years and made lots of mess.
May Allah Bless this country & people living in it and keep all kinds of  corrupt evil living souls away from power.