In Chile 33 people were trapped 700 meters underground 69 days ago in a mine collapse. They have been trapped for 17 days without anyone on surface knowing about them, are they even alive or not. But on 17th day the first contact was made and it was via a phone set normally used by miners when working inside mine.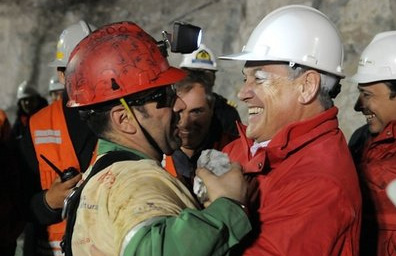 Soon the rescue efforts were started by starting to dig down the tunnel to exact place where they were trapped. Soon after completion of that part the real rescue effort involving the pulling out each of miners one by one, started about 21 hours ago. They used a capsule connected to a puli-system to rescue each of person. On each round trip the capsule was bringing one person out of mine area 700 meters underground. In start this round trip was about 1 hour but towards the end it was lowered to less than hour. It thus enabled final rescue of all 33 miners within 21 hours. Chile president was there on rescue site to welcome each rescued minor. During operation 6 rescue workers were also lowered into mine, so after they are successfully brought out surface the completion of the operation will officially be marked.
Bottom line is all 33 people who were trapped underground 69 days ago are all successfully rescued. This was a historic event as no one earlier have been trapped underground anything during to this period of time. No matter the miners were from Chile, everyone from world over seem concerned and that was depicted by the people's activity on social media sites like twitter and Facebook. This is where the things come down to humanity, without thinking who belong where, people seem concerned and happy about the rescue and this was the most beautiful thing.
Thumbs up to all those people who were involved in anyway in this rescue effort and made this possible.
Update: Last 6 Rescue workers underground comes back to surface marking the official completion of Rescue operation. So everyone back to surface safely. 33 miners and the 6 rescue workers which were lately dispatched to underground area to rescue the miners trapped 700 meters below surface.