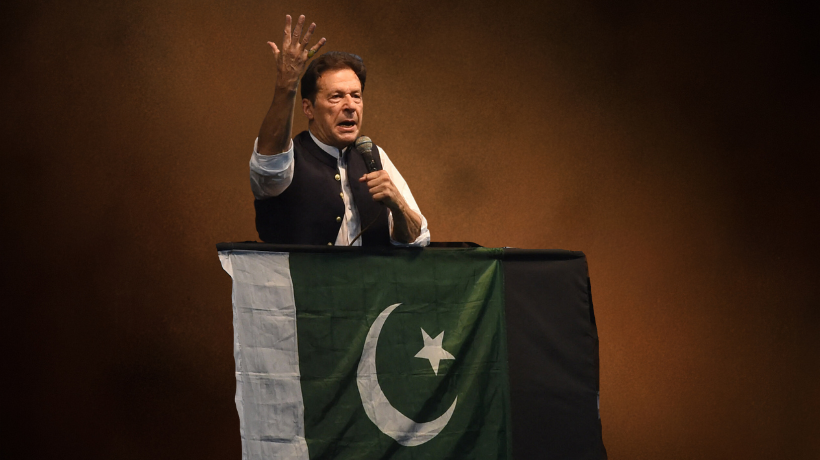 Imran Khan have been to many cities of the country over last few months, specially after the multiparty alliance called Pakistan Democratic Movement (PDM) took over the government, Imran Khan held many political rallies and events all over the country. He have been mobilising his voter, supporters and workers all over the country to get them ready for one big call for a long march to Islamabad.
The Pakistan Tehreek-e-Insaf (PTI) Chairman Imran Khan holds a view that ok PDM took over the government using the 'no confidence' but no single party in the alliance have seat count anywhere near to what PTI have in National Assembly, for this reason, the PDM does not have any excuse to stay in power without getting fresh mandate in elections.
But PDM including its all parties is not very confident about their ability to get votes in elections, specially after PDM came in power, due to political instability economy of Pakistan have seen worse downturn. Stock exchange dropped fast, also rupee as well seen worse devaluation in first few months, when Miftah Ismail was finance minister. Now after Miftah Ismail was replaced by Ishaq Dar, govt got able to somewhat control the Rupee's downward slide.
Rupee devaluation impacted the daily use items in worse way and a fresh wave of inflation was seen after PDM came into power. Later on, in order to resume the financing from International Monetary Fund (IMF), government had to compromise on many things which worsened the inflation situation in worse way for people of Pakistan. These terms included, increasing fuel prices to not only stop giving subsidy but also collect taxes and other charges called petroleum levy. Also govt increased price of electricity after accepting the terms of IMF, this resulted in very much increased bills of people.
So, after all this inflation and increasing prices of everything resulted in people losing their confidence in PDM, if they had any. This impacted Pakistan Muslim League Nawaz (PMLN) in worse way, as they have people in key positions in country, including Prime Minister, Finance Minister and more. Now due to this reason PDM and all parties in alliance are very hesitant from going in to general elections.
On other hand, Imran Khan, who thinks that he was ousted as result of a foreign conspiracy, which seems very much true after seeing the turn of events, is insisting that if the PDM wants to remain in power and wants to make important decisions of country, they must come through fresh elections, after taking fresh mandate. For this Khan have been pressurizing the government for months but nothing seems to work.
So, as a last resort Imran Khan have been talking about a final call. Khan is confident that 90% of Pakistani people are standing with him today. And after so many political rallies and events, they are mobilized, so if Khan gives a call and only 1% of those people take it to streets, PDM will have nowhere to hide.
Recently, Imran Khan have given last few days to government to announce the elections, otherwise according to Khan, the final call for the long march or final standoff against current regime is coming in this same month of October.
Also, this time this is very much unclear that what Imran Khan has in mind about how the this much anticipated long march. Will it even be a long march, well, this time Imran Khan have kept lots of things to himself but in many interviews he revealed that he have something very different in store for government this time. When he will give the call, government will have no other option except accepting his demands and going into fresh elections.
Now, the questions is, why he waited this long and not gone ahead with this plan much earlier. Well there are two things here. Firstly, Imran Khan says he wants to come with full preparation, with all the scenarios in mind so on the day of march, the purposes can be achieved. Other reasons for delay, as per he explained were, that he does not want to put undue strain on already weak economy which already have suffered much due to political instability and mishandling.
So, as final few words, currently no one is fully sure about the date of final call by Imran Khan, however, as per what he have mentioned in different interviews, he call will forsure come in month of October, towards end of the month probably. What I assess is, as Khan have given few days to government to give call for elections, probably the final call may be delayed to start of November. However, in next two to three at maximum, probably sooner, there is final call coming from Imran Khan for sure.