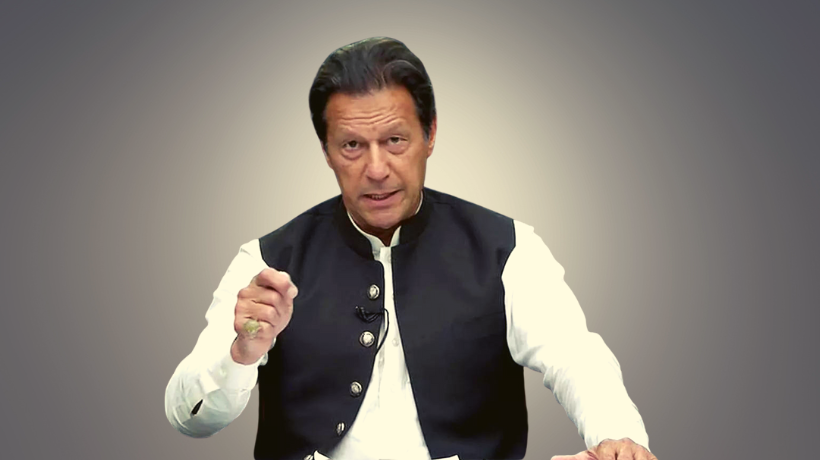 Pakistan Tehreek-e-Insaf (PTI) Chairman Imran Khan have constantly put the current so called Pakistan Democratic Movement (PDM) led government of Pakistan under pressure with his 'Final Call' warnings. 'Final Call', which Imran Khan sees as a last resort against the self imposed PDM led government. if they do not announce early elections.
One reminder here, PDM is an unusual multi party alliance comprised of almost all political parties other than PTI. The count of current parties in PDM alliance currently stands at 14. There were eleven initial parties and fourteen joined later. These all parties have their own different ideologies and different interests, so how they ended up together on one platform. It could be only one of two things, first being Imran Khan's immense popularity in people, so these all parties thought, only way to deal with PTI is get together on one platform. Other thing could be as Imran Khan claims, an outside force conspiring to ousting Imran Khan from government and brining all these parties with different ideologies, interests and manifestos to one platform. Or, In my opinion, it could very well be combination of both, but who knows, one can only speculate here.
Most influential in the multiparty alliance appears to be Pakistan Muslim League Nawaz (PMLN). As the had most number of seats in National Assembly after Imran Khan's PTI. Than second most influential is Pakistan Peoples Party Parliamentarian (PPPP).
One more point Imran Khan raises is that the core purpose of this unusual alliance was to make changes in laws of National Accountability Bureau (NAB) and country to favour themselves in cases. Here again, some changes to these laws, specially NAB's law have been made, those changes does favoured the parties involved. Specially, biggest beneficiary was PLMN, which after changes in law had got many cases withdrawn. Even Maryam Nawaz got her passport back and she was able to travel out of country to UK after three years, to meet Nawaz Sharif (her father) and rest of family, including brothers, son and more.
Now coming back to the core topic, Imran Khan, who holds the opinion that this alliance which does not have direct clear majority medate from people of Pakistan, have no right to be in power and make decisions about the fate of Pakistani people. Few months back when these parties ousted Imran Khan from power via vote of confidence, these fourteen parties were barely able to complete required numbers against Imran khan and his couple of allies. Also according to PTI and many media houses, horse trading does occured in those days, to complete the numbers and huge amounts were offered.
Now a days Imran Khan is running biggest campaigns which comprised of huge number of rallies, day in and day out, visiting far flung cities and areas of country, talking directly to people of Pakistan. Communicating directly to people that why it is now very important that new elections are held and the one who comes in power makes the important decisions of country, which directly or indirectly impact people of Pakistan.
In his rallies he always insists that government should announce the next elections and come on the negotiations table, otherwise if current PDM led government will keep themselves imposing on people of Pakistan, he will have no other option to give final call. This call will involve people leaving comfort of home, coming on streets for their right and protest for the purpose of next elections be announced. So a party with proper mandate can come into the power. The true nature of final call and what it will involve, is still not clearly revealed by Imran Khan. He insists it will be big surprise, government is welcome to prepare dealing with protestors like before but they will not be able to deal with what he have in store this time. It is not to be forgotten that govt had used power against protestors last time Imran Khan rallied.
However, this is fact that Imran Khan have mobilized huge number of people with his countless rallies all across the country, over last few months. PDM ousting Imran Khan and than sitting in power, not announcing elections and economy of country getting out of hands due to political instability in country, have only favored Imran Khan and his party in past several months. PDM, which marched several times against inflation and rising fuel & energy prices, before coming into power, made things worsts, at least until now. Specially, after they were unable to control devaluation of Pakistani Currency against other currencies, the prices of fuel and energy went through the roof. These price hikes along with price hike in food and daily used household items, impacted people in worse way, resulting in further unpopularity of PDM and popularity of Imran Khan's nerative.
So as we discussed above, people are not very happy with policies and handling of current government, this 'Final Call' is for sure source of concern for PDM and specially PMLN, which have people on most important operational positions in government. It should very well be source of concern for PDM government. as they are just only in power in center and one province, rest of Pakistan is governed by Imran Khan's PTI at the moment.
On other hand, Imran Khan also keeps mounting the pressure and keeps raising the stakes against government with his new announcements in his frequent rallies day in and day out. One such example is announcement by Imran Khan that my final call will involve fill the jails movement. So according to him if Pakistan have total capacity of keeping 70000 in jails, enough people will be ready to go to jail that government will no longer be able to hold these many people even if they fill the jails beyond capacity. This may very well be another pressure mounting tactic, but still it was announced in recent rally in Mianwali by Imran Khan.
This final call have to come for what Imran Khan calls the final march named Haqeeqi Azadi March. This will be to portray a clear message specially to any involved foreign operators that people of Pakistan will not take it lightly that any foreign power influences the internal matters in Pakistan for their own interests.
Imran Khan in his many speeches, press conferences and rallies made it clear, that he does not want to sabotage Pakistan's good relationships with any country, but on same time he and people will not tolerate any foreign power to plan and execute conspiracies to influence important internal decisions and regime change in Pakistan for their own interests.
One important thing to mention here is, Imran Khan have been talking about a final long march and its final call but he have been hesitant in actually announcing it till now, according to his and his companion's interviews, this was to not put undue strain on our struggling economy by disrupting it with marches etc.
Now if we sum it all up, Imran Khan is now enjoying peak of his popularity and majority of people are with him right now, we can debate on different factors of it like mishandled economy by PDM led government and udue price hikes and much more. But the reality of the hour is if Imran Khan gives a final call, people from all across the country will come out and get together in Islamabad. This time we can comfortably say that he will be able to gather people in millions, not just hundreds of thousands. Also this will indeed be again another thing which will disrupt the economy, which already is in turbulent waters.
So, need of the hour is, that PDM also recognizes that they have not took over the country's government with genuine mandate but the with the unnatural mashup of fourteen different political parties with different manifestos and end goal. Also they are just holding the center and a province, all other territories of the country are governed by PTI. So it will be only wise that the parties in power do annonce elections date as soon as possible and goes on negotiating table with all other stakeholders to decide other important matters like matters related to election commission and the interim government.