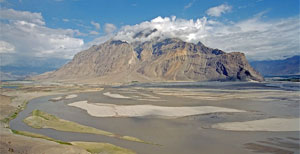 When compared to the last year the water flows in the rivers this year are very much about more than 34% less. Also storage overall is about from 32% to 40% of total capacity. Indus River System Authority (ISRA) is planning a meeting to revise the water management plan for this year and this meeting will held on 1st Feb, 10.
The water flows in four major rivers declined from 10,000 to 37,000 cusecs, which is huge decline. Also the decline in the Mangla and Terbela dams is 34% less than the next year.
Country is now facing huge water shortage, this shortage is now most likely to effect the agricultural activity around the country.
The thing here to think is untill when we will be depending on Mangla and Terbela dams. Have government thought something about starting the new water storage projects. Now its very much necessary because India is now in implementation phase of many dam on same rivers which take water to Pakistan. So naturally in future we will have to make sure that none of water which come in go to the sea but its stored in many water reserves.
If situation stays the way it is and more water management projects are not thought of, it would definitely be more hostile food commodities and power shortage in the country.
There are lots of things which need to be planned from now to survive after 10 years of time, nearly no planning for water, gas or power is going on. Looking at the on going increase and expected increase in demand of these all, the revolutionary development project are now due. God bless this country with a capable leadership which manages every thing as required.
Don't forget to subscribe to daily updates email and join facebook, both from sidebar on the right.