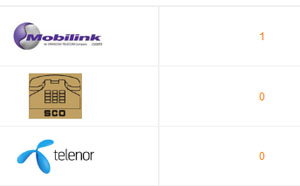 It has been quite a while when Pakistan Telecommunication Authority had first introduced this facility. Previous they were providing this service only SMS, then a semi functional Web Interface was there. But now they came up with a new web interface for this, which seem to be more efficient. So following are the possibilities to use this service.
Check Via SMS:
No matter what cell phone operator you are using inside Pakistan, just compose an SMS message with your National ID Card number as message text and send it to 668, in reply you will receive the number of SIMs registered using your NIC number for each network.
Check Via Web Interface:
Just visit 668 Online service Page, enter your National ID Card number eliminating the (-) character and on submit it will show all the phone SIMs registered using your NIC.
It is important that the phone connections you are using must by registered on your NIC and also important that any other SIM cards you are not using must not be registered on your NIC because if they are used for any kind of illegal activity, you will end up in trouble.  Make use of these services and the customer care of specific companies to block any SIM cards registered with your NIC illegally.
We come up with lots of updates and useful information, so to keep yourself updated subscribe to our daily email using the email subscription box right top of this page and also join our Facebook/twitter pages from the boxes on right side.
You have got something to say about it, say it all by adding comments to this post.