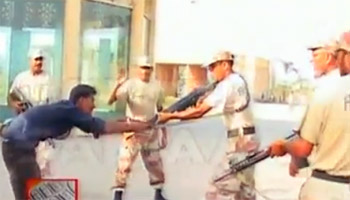 Karachi a young boy named as "Sarfraz" was killed when he was in custody on rangers and rangers brutally opened fire being Judge, Jury and executioners themselves. Boy was clearly posing no threat to the rangers as he was fully unarmed and was even asking for polite stance from rangers.
No rule of law in entire world allow anyone to do such a vicious act, this is clearly a murder and must be met by murder charges on the person who fired the gun shots on that unarmed boy. The human rights organizations must come forward to bring the dead to the justice by making sure that killer is brought in front of a court.
Even after this vicious assault the DG Rangers seems defending the act via statement that it was crossfire, clearly boy is unarmed, lets see following footage of event and discuss other stuff after that. Have a look.
Rangers also found involved in such events in past where in Karachi people were killed the gun shot of a ranger but this was unique event where the person deliberately make sure to kill the victim making sure that he does not make it to life.
Orders of action against the rangers already came from Sindh Chief Minister Syed Qaim Ali Shah and Interior Minister Rehman Malik, hope on ground the steps are taken to bring the soul of dead to justice as no offense against him proved yet.
Also Sharjeel Memon who is Sindh information minister told that strict action will be taken in this regard. A number of political parties, individuals related to politics, Journalism and civil society already condemned this vicious assault by rangers against the boy being named as 'Sarfraz'.
This is not about a single case but about respect of human rights in this country, this is definitely a negative message to the world, specially when security forces individuals who are suppose to protect us are found killing the people even when they had a chance to arrest him and bring in front of court. Or even they had him in custody. This matter must not be met with leniency. I would name this event as murder by rangers, anyone else have any better idea?
Update – June 11: Chief justice Iftikhar Muhammad Chahudary had took the Suo Moto notice of the event, the two culprits were arrested and brought in front of Supreme court on June 10th 2011, court have granted the five day remand against those two of rangers. After five days court will again here on the case.
Court also told IG Police Sindh and DG Rangers Sindh to leave their positions or else advised the Sindh government to hold their salaries till further notice. Reason told by court was these people tried to hide the facts from court and in a way tried to protect the culprits. However government disagree on this from court and will bring forward an application to court in coming days to review the decision about IG Police Sindh and DG Rangers Sindh. According to government the act of killing was act of few individuals involved, IG Police and DG Rangers have nothing to do with it, so they must be allowed to continue their services.
One thing for sure after this case came on to the media with that video footage these people changed their stance otherwise everyone from officials were blaming 'Sarfraz', the victim of the event.
Join us on twitter/Facebook and subscribe via email all front sidebar at right to stay informed on this and many more.
Update 2 – June 11: Police have seek the custody of four remaining rangers who were there at crime scene. The two rangers Shahid Zafar and Muhammad Afzal are already in custody of police. Also Afsar Khan who in video footage seen dragging the Sarfraz towards rangers and was in plain cloths, is already in police custody.
Update – June 12: Rangers have handed over their remaining four personals involved in Karachi's young boy's extra judicial killing. Police had seek custody of these four rangers' personal yesterday as mentioned above in previous update.