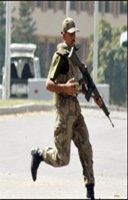 As previously when Pakistan Army wrapped up the operation at GHQ they had arrested Aqeel alias Dr. Usman. Now after some investigations Army arrested twenty more people in connection with Aqeel. Breaking into this locked house police men found the six army name plates, rank signs, army rank ribbons, fuse for rocket propped grenades, anti-tank mine fuse and some  other weapons. Army had already located the owner of a rent house in Humak and arrested him.
Police had raided into the house after they received the information about some suspected people in army uniforms going into the house. However while the raiding into house police was not able to arrest anyone as they had broken into the locked house. This house was hired by the suspects for Rs. 10,000 per month.
Along with the owner of house the real estate agent and his nephew was also arrested for further investigations, police already been able to find name and some information about the person who had hired the house and signed the contract with owner for this.
Names of some other suspects are also been traced and overall twenty people have been arrested in connection with Aqeel, after the completion of GHQ operation.