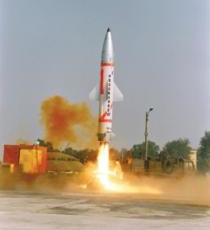 India test fired Prithvi-II ground to ground missile on Monday. According to officials this was a successful test of the weapon. This missile is capable of carrying one tonne of Nuclear war head. The ground to ground range of this missile can vary from 150 to 350 killo-meters. This missile was last tested on 15th April this year.
Reminding that Pakistan have already tested the missiles with much more capability, like 2000 to 3000 km of ground to ground range, successfully and they are properly handed over to the security forces of Pakistan. But had claimed to successfully test the missiles in past but they had actually didn't hit there targets with precision, also same is the reason that Indians didn't been able to hand over any of the weapons to its on ground security forces.
Although Pakistan have test fired many of them already successfully but always made it clear to International community that our missile and nuclear program is only and only for defense purposes and will not be used in  aggressive way in any instance.