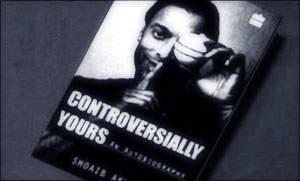 The famous Pakistani cricketer, Shoaib Akhtar, known as 'Rawalpindi Express' have just written a controversial book named as 'Controversially Yours'. The book is the auto biography of famous Fast Bowler and the fastest bowler of world from Pakistan Shoaib Akhtar.
Book is yet to be released, some of the excerpts from the book were made public lately. Exactly as name suggests, book is much controversial and hold lots of controversial stuff about most Pakistani and some Indian players. Also reveals some of stuff which was earlier unknown to people.
One of many controversies that book brought with itself was the claim by Shoaib Akhtar that Waseem Akram had opposed the selection of Shoaib Aktar in his first ever international match. Moreover Waseem Akram was ready to walk away with half team on issue of selection of Shoaib Akhtar. However, Waseem fully denied this and told that there is absolutely nothing truth about it.
Also Shoaib accused the great bowlers like Waseem and Waqar of ball tempering in his book and told that this was routine of these great bowlers. Also he added that once a great cricketer in a match had even swapped the ball with a more suitable one during a cricket match to get favorable results. Later in interview with an Indian TV channel he revealed that the ball swapping Cricketer was Javed Miandad.
Shoaib targeted many people in his book even Musharraf and Indian cricketers as well were not safe. About Indian cricketer Sachin book claims that he is not match winner but just is much over rated. He said in his book that he had seen the fear in the eyes of Sachin when he was bowling to him, also sachin was not being able to play the fast bowls of Shoaib Akhtar. Similar claim came about Rahul Dravid, suspecting his batting abilities.
Some protests already held in India in which protesters hanged the posters of Shoaib Akhtar on back of donkeys. Protests were held due to the material about Indian cricketers that book holds.
Many believe that the motive behind mentioning the Indian players in his book was to gain the cheap publicity before the release of book. Also book was first going to be released in India. Book release function was scheduled on 24 Sep, 2011 in Mambai India but this was mysteriously called off.
Chairman of Pakistan Cricket Board (PCB) Ijaz Butt said that Shoaib's book will have bad affects on relations of cricket managements of both country, the relations which are already jeopardy and dialog is already on to make improvements. Butt added that once the bowler Shoaib Akhtar was in cricket team he always been controversial and on multiple times board had to face troubles due to him. Now once he is retired still he is now causing the trouble to board, now via his new book. One thing which Ijaz Butt didn't realized that Shoaib was a match winner in terms of his world's fastest bowling, so he didn't brought some good stuff as well to the table.
One thing in which I will disagree with Shoaib is he did not had to bring up those embarrassing stuff about his seniors. This is like jeopardizing their name and denial of what they have done for country. Stars like Javed Maindad, Waseem Akram and Waqar Younas were the match winners and on multiple times they have made the nation proud. Any negative stuff that was brought forward about them is not understandable specially when the book is being published in India first.
This book yet have to hit the markets, mainly its autobiography which talks more about Shoaib Akhtar as cricketer and hardships he faced in his professional cricketing careers. More stuff will come forward as book hits the markets of India and Pakistan.
Subscribe to us via Email as well as follow us on Facebook and Twitter, all from options on right side of this page.