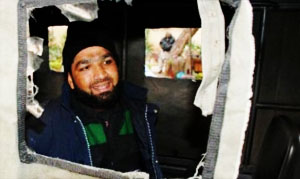 Mamtaz Qadri had shot former governor Punjab Salam Taseer dead on Jan 4th 2011. He had told that he did this over the Salaman's views about the Pakistan's Blasphemy laws. He also under oath told that this killing was due to Salman's views about the blasphemy laws.
Court however expressed that this is not the excuse, according to Anti Terrorism Court (ATC) Qadri ended up being part of crime by taking the matters in his hand. Court sentenced the Mamtaz Qadri to death as well as he was fined 200,000 Rupees.
However, according to the court Qadri's affiliation with any terrorism plot was not proved, so the punishment can not be via Anti-terrorism Act (ATA). Keeping this in mind, now the case will transferred to civilian courts.
Further appeals by Mamtaz Qadri can be submitted to high court. On same time the supporters of Qadri protested in Rawalpindi and Lahore. Also a Wheel Jam Strike on 7th of October is called by Sunni Tehreek, they have also rejected the punishment given to Mamtaz Qadri.
Subscribe to us via email, follow us on Facebook and twitter, all via options on right side of this page.