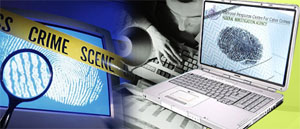 Now like other countries of world also in Pakistan the Crime Investigations Cyber Crimes division is actively working. This department is working under Federal Investigations Authority(FIA) and Named as National Response Center for Cyber Crimes (NR3C). Scope of their work is not limited to Identity theft or hacking etc, they are responsible to take care of all kinds of potential illegal activity which may take place using online mediums inside Pakistan.
They also provide the ways through which people can complain against any kind of online illegal activity and actively monitor and investigate the complaints submitted to them. Complaints may vary on variety of issues, e.g. If you are running a website and someone have hacked that website, just register a complaint with NR3C and even if the website is recovered back they will be investigating and will eventually find out the hacker who had done this by using  logs and other data which is stored with the service providers for specific websites.
Also if some one have hacked your email address, don't forget to register a complaint and expect an action. They also act well on identity theft. For example if someone have took a photo of you from any where online and using it in a fake Facebook or any other social networking website with your name or even any other name as profile picture, you can register a complaints and it will be made sure that the fake account is deleted and person made and using this is caught.
Also if you are receiving any threats via emails etc, you can complain with NR3C to get the culprit caught and punished. Even if the emails are being generated by random or custom scripts other than using the real email account the origin of sender may be traced very much easily. A computer professional with some knowledge can do it, but the people we are talking about here are the experts who are very good at this.
Another problem our society have, if someone uploads the photos in their profile or somewhere else online, they are copied and may websites or people start using those photos elsewhere. If any of such event have occurred with you or any website or individual have published your pictures without any reason or without permission from you, don't hesitate to complain against it with NR3C.
So either your email or website is hacked, someone using your photos or identity illegally or someone threatening you using any online medium, don't hesitate complain with National Response Center for Cyber Crimes (NR3C)
For complaints you can use following contact information.
Email: helpdesk@nr3c.gov.pk
Phone: 051-9260944
Fax: 051-9262376
NR3C Website: www.nr3c.gov.pk
Keep adding your thoughts, your experiences and more information via comments. Also subscribe to our Facebook, twitter page and daily email updates from right side of this page.