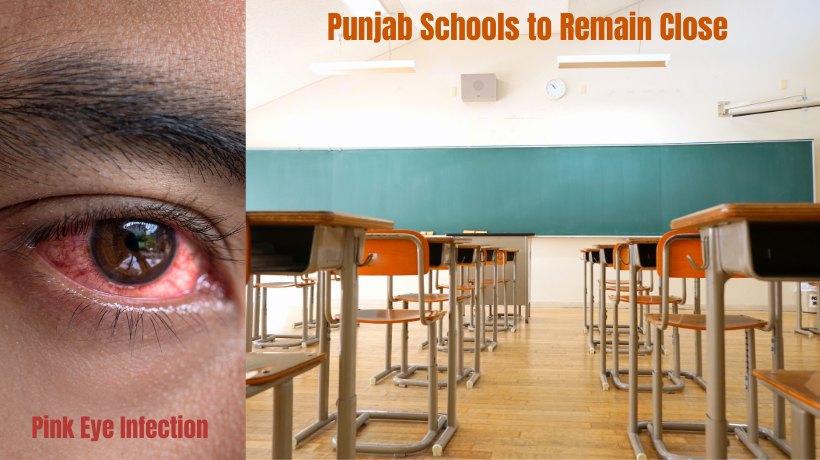 Government of Punjab in Pakistan have announced a holiday to contain the Pink Infection, which is spreading like wildfire these days. It is also affecting the school going children. Holiday is announced for Thursday, September 28, 2023. All the public and private schools to remain close on Sep 28, 2023. Friday, September 29, 2023 is already a holiday in Pakistan as it is Eid Milad un Nabi day. So school will now open on Monday, Oct 2, 2023.
The viral Pink Eye infection and related disease is said to be highly contagious. So starting from the monday, all the students, specially in the schools and colleges, will be screened on gates and will be denied entry into the school or college, if someone bears the symptoms of Pink Eye disease.
Students are also advised to remain at home if someone bears any symptoms of Pink Eye disease and seek immediate medical attention. The symptoms of Pink Eye disease, also known as Conjunctivitis, include redness in eyes, itching in eyes and fluid discharge from eye. So keep a close eye on these symptoms and if you see any, do go and seek medical attention.
Another very important thing, which we need to reiterate here, is that the disease is highly contagious. So if you see these symptoms in someone, just avoid contact and try to maintain safe distance. And if your child shows any of these symptoms, do not send him/her to school and seek medical attention to deal with the situation as quickly as possible.
Schools are also advised to maintain a level of cleanliness and hygiene at all times, in order to stop the transmission of the disease.
We here at Info Pakistan are convinced that more holidays will be required to deal with the infection. There is no harm in giving few more holidays, so infection can slow down. For now however students have four consecutive holidays, Sep 28 special day off for Pink Eye infection, Sep 29 for the Eid Milad un Nabi and finally two weekend days starting from Sep 30. So This way no students have to report back to school on October 2nd, 2023.
Punjab Pink Eye Infection Holiday Notification
Department of Schools Education Punjab have released a notification which mentions the holiday related to the Pink Eye disease on September 28. According to notification, after all the holidays, total four, schools will open again on Monday, October 2, 2023. We have secured a copy of notification which is displayed below.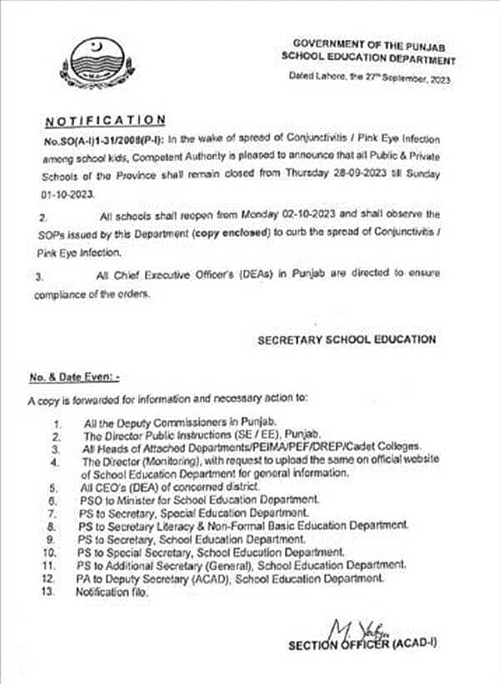 Please make sure to enjoy the holidays in isolation and avoid overcrowded places so that this opportunity to slow down the disease is utilized properly and effectively.