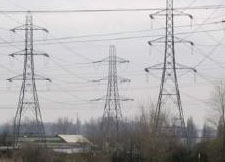 Its January 10th 2010 and we are living into the age when government had promised many times that we will have all our electricity shortages met. Many times in past being not able to fulfill their promises of meting electricity needs in Dec 2008 and according to  next promise June 2009, no w finally once again ruling party unable to met the third one which stated the discontinuation of load-shedding from Dec 2009 for forever.
Not only this but just after Government's dead line for itself to meat all energy challenges country is again pushed into the severe crises of its time. We are now again face the short fall of more than 4000 megawatts. This shortfall causing the load shedding of nine to seventeen hours in different areas of the country.
Not to forget that the on going season is low power consumption season, power consumption even goes too much high in summer as compared to this season. When they are not able to fulfill the energy needs of nation in this season what will they do in summer. The circumstances just show that things not working out here, ruling party just seem making and broking their own promises on the issues and was not able to address issues on ground.
According to analysts energy projects being worked on will not able to fulfill the nation's energy needs even in  2011 – 2012. Hope administration goes with a fresh emergency planning on the issue and tries to fulfill the energy needs of nation.
Keep yourself updated about the latest updates from Pakistan and other useful information by subscribing to our daily email update letter and joining our Facebook page from sidebar on the right.