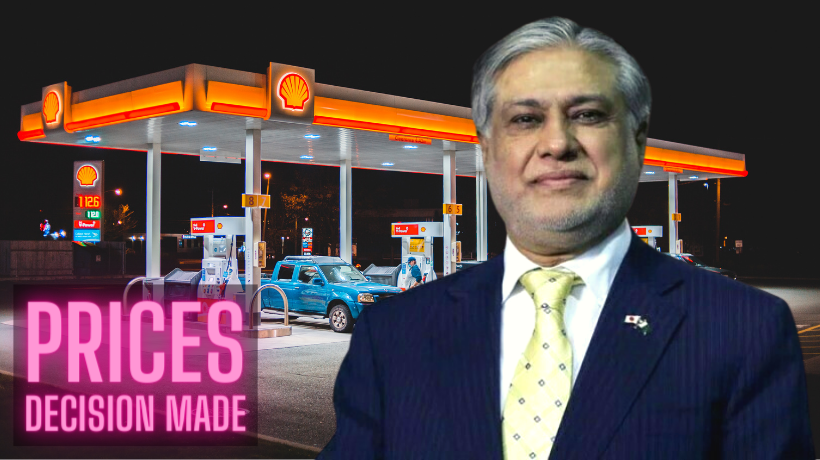 New petroleum product prices had to be implemented from tonight and people of Pakistan were expecting a relief in petroleum product prices, keeping in view the global oil price drop as well Pakistani Rupee (PKR) strengthening against United States Dollar (USD). However, Ishaq Dar, who is on tour of United States, in his tweet he has communicated that we are not changing the prices of petroleum products until 31 Oct, 2022.
According to Ishaq Dar, Oil and Gas Regulatory Authority (OGRA) had recommended slight reduction in price of petrol and had recommended increase in price of other three petroleum products which include High Speed Diesel and Light Diesel as well. According to Ishaq Dar decision of no price change was made after keeping the Prime Minister of Pakistan Shahbaz Sharif in to the loop via telephonic conversation and he agreed.
So the current petroleum product prices in Pakistan are as follows and they are valid until 31 Oct, 2022.
| | | |
| --- | --- | --- |
| Petroleum Product | Price (PKR) | Change |
| Petrol | Rs. 224.80 | No Change |
| High Speed Diesel | Rs. 235.30 | No Change |
| Light Diesel | Rs. 186.50 | No Change |
| Kerosene Oil | Rs. 191.83 | No Change |
Pakistani Rupee have strengthened significantly since the last price change of petroleum products in Pakistan. To be exact it gone up 14% against the US Dollar. Also global benchmark crude oil price gone down significantly, so people were very hopeful to see some decrease in fuel prices. According to information shared by popular news outlets of Pakistan, despite these improvements mentioned above and due to some handling costs prices of High Speed Diesel, Light Diesel and Kerosene oil had to go up without change in the tax structure and petroleum levy. However, the price of petrol was decreasing. Seems like government tried to average out everything by not changing prices. It was however possible to lower prices by taking a hit on taxes, which govt must have still took to keep prices unchanged.
Government of Pakistan is still on a relief loan program offered by International Monetary Fund (IMF) and the past negotiations and terms of program, do prevent government from giving any kind of relief on the taxes and other changes which it collects on import and sale of oil. Infact their demand have been to gradually increase those taxes.
IMF had also demanded that Pakistan should deregulate the petroleum product prices, so government does not decide the petrol prices, only the distributor companies control the prices, then on end of the day the prices are dictated by the competition of different distributors along with other factors obviously.
In response to the IMF's demand to deregulate the petroleum prices in Pakistan, many sources suggest that govt do have the plan to deregulate the petroleum prices starting from Nov 1, 2022. This means, if government goes ahead with the plan to deregulate the petrol and diesel prices, then government will not decide the next price increase or decrease, on the contrary, from the November 1, 2022 the oil marketing companies like Shell, PSO, Total and others will be able to set their own prices and compete with each other.
It should also be noted that with current regulated prices of petroleum products, the margins of oil marketing companies are decided by government, however, when and if these prices are deregulated in future, every oil marketing company in Pakistan will be able to decide its own margins. So in other words, the market itself will be deciding the margins of oil marketing companies and they will be dictated by the competition among them.