Paypal is an online merchant, an e-commerce network help people in paying each other online and withdraw money to their bank accounts. It is very easy to use and can be easily integrated with websites and also can be used by professional. Now this network is most widely used in the world and no other even come closer.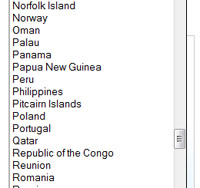 Problem is Paypal still need to list Pakistan in the list of countries who can use this service. Pakistanis now suffering much from it. For IT services online most people like to pay professionals via paypal but due to they didn"t contracted with Government of Pakistan and also Government of Pakistan done no effort in this regard Pakistan is missing lots of potential  money inflow. PayPal accepts accounts from lots of less developed countries than Pakistan, even India got able to get the enlisted on the accepted countries on PayPal but our government or finance ministry have not even thought of it.
People who are suffering most are the IT professionals, Marketing firms, e-commerce businesses, online service providers like hosting companies, website and blogs owners etc. If Government do something about that it would be very much good in favor of people of Pakistan, on other hand PayPal concerned must also think about it, as they are loosing much of revenue by not listing Pakistan.
Moneybookers.com is also an alternative, but they are not too big as paypal also used very much less than them. But if moneybookers.com can do that, why don't PayPal. An effort has to be made in this regard by concerned authorities. If Indians can use this service than we also need to get on the list, also it is much in interest of our development.
Hope my this post reaches to some authorities and makes much of difference. Also hope that things get much better here in Pakistan too.