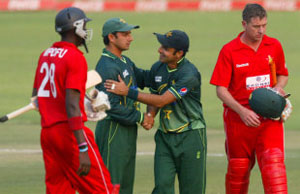 Pakistan have recently won the second Twenty20 international match as well against the Zimbabwe. Pakistan cricket team is currently on its Zimbabwe tour and have done well in all kind of matches including Test Series, One day Internationals and now clean sweep victories in Twenty20 International matches.
With 51 top score of Mohammad Hafeez, Pakistan was able to do 141 in 20 overs. In reply Zimbabwe was able to score 136 runs. It was close fight but finally Pakistan Cricket team came out victorious.
These recent victories of Pakistan cricket team against Zimbabwe were really important as major changes in team were done recently, lots of senior players were put our of Pakistan team and lots of new inexperienced players were added. These recent victories were real good to give confidence and exposure to those new players, so they can perform even well in upcoming international matches.
Subscribe to our email as well as follow us on Facebook and twitter, all from option on right side of this page.