New Zealand while batting first given 137 runs target to Pakistan in first Twenty20 match of the series. Normally its hard for Pakistan to play second and chase big scores. But today it was made possible by Sarfraz Ahmad, who scored his all time best 76 runs of Twenty20 Cricket. Those 76 runs were scored on just 64 runs with the strike rate of about 120%.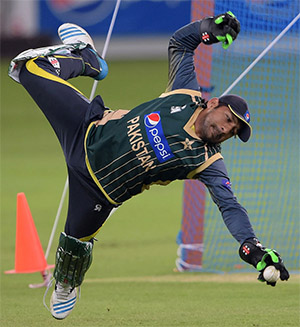 New Zealand on other hand were playing without their regular captain Brendon McCullum and few other senior players who were sent back home after the test series they just finished playing against Pakistan. The top scorer in New Zealand side was Corey Anderson who scored just 37 runs on 48 deliveries he played.
So overall Sarfraz Ahmed was the hero of today's match. Without his 76 runs Pakistani side may have been gone in trouble. Kamran Akmal finished the chase with a six. Pakistan is scheduled to play next Twenty20 match today on Friday, 5th of December, 2014. Best of Luck to Team Pakistan.
Do LIKE us on Facebook and follow on twitter, all from options on right side of this page, to stay updated with latest and useful info from Pakistan. Do share your thoughts and opinions in comments section below.