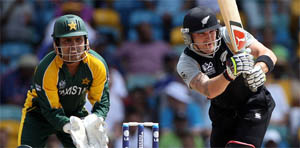 Team Pakistan was not able to uphold their winning streak in World Cup Cricket 2011 when they lost a match against New Zealand. New Zealand batted first, Ross Taylor was the bats man who made 131 runs, other big score from New Zealand side was from the opener Martin Guptill who scored 57. New Zealand while batting first were able to do 302 runs.
Their is another side story this tremendous success of New Zealand with the bat, that is poor fielding performance from Pakistan side. Worst of them was from the wicket keeper who dropped few catches as well as not responded to few very easy stump opportunities. From last two days there is too much buzz about these blunders of wicket keeper in match against the Kiwis, however the captain and coach of team, they told the despite the poor performance in previous match they will retain the Kamran Akmal as keeper of the team during all the remaining matches of world cup. Which is fair enough decision, he must be given chance to make things right in coming matches; specially when he realizes the issue with his performance in last match.
However it was not all bad with performance of Kamran Akmal but while batting the whole Pakistan team was not able to perform well against Kiwis. Whole team was out just under 42 overs. Best score was from 62 and Umar Akmal did 38 and Umar gul did 34, beyond that the score card was just disappointing with lots of ducks and single figure scores.
While chasing the target of 303 to win Green Shirts were able to score just 192 in under 42 overs and lost all their wickets at that point. What green shirts have to do is to figure out the causes of this defeat and prepare better for the next match, they need to stay focus and try to win all coming matches so that they can bring the Cricket World cup 2011 back home. They are very much capable of doing that, so best of to team Pakistan for upcoming matches.
Join our Facebook, twitter pages and subscribe to updates via email to stay informed about happenings from Pakistan and to get useful info every now and then.