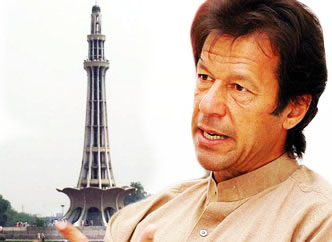 Pakistan Tehreek-e-Insaf (PTI) which is lead by Imran Khan have announced a rally at Minar-e-Pakistan location in Lahore on 30th October 2011 at 2:00pm. Rally will witness the public address of Imran Khan, the chairman of Imran Khan.
This rally will be very important and determine how many people will support the emerging Pakistan Tehreek-e-Insaf. However the leader Imran Khan is very much confident, according to him the rally would be a huge success and will prove the new political center is not any more in Raiwind (The residense of PML-N Leaders, Nawaz and Shahbaz Shreef).
Imran Khan and more and more people of Pakistan now believe that the political parties in power like Pakistan Peoples Party (PPP) in Federal Government and Pakistan Muslim League Nawaz (PML-N) have not done enough to cope with problems of people of Pakistan. Moreover, the Health, Education, Employment and public safety situation is only worsend in last few years since these other political parties were in power.
Same is the reason that more and more people are now turning to Imran Khan, the chairman of PTI. Many think that the future of Pakistan politics now revolves around the Pakistan Tehreek-e-Insaf or around Imran Khan in other words. People believe that Imran Khan is the man with the vision and if given the chance in next elections, and if he gets elected, he will have the answers to all problems of Pakistanis.
The upcoming rally in Lahore Pakistan will serve similar purposes, it will firstly determine how many people from Lahore and adolescent areas are supporting Imran Khan's political party, also may be considered as a statement against the chaos which is in country in political tenure of PPP and PML-N.
Imran Khan, as derived from his public speeches and media interactions, is very much confident that with huge participation of People in his Lahore rally, he will send a strong message to corrupt elements in power that change is now not far away.
Many believe that if a change have to come, the time is now, many people, specially masses of youth are supporting Imran Khan for next elections as he deserves a chance deliver which he claims that he can deliver and we believe he can deliver. People don't have anything to lose but have got a big hope for change and betterment if they choose Imran Khan in next elections.
Do subscribe to us via email, follow us on Facebook and twitter, all from options on right side of this page.