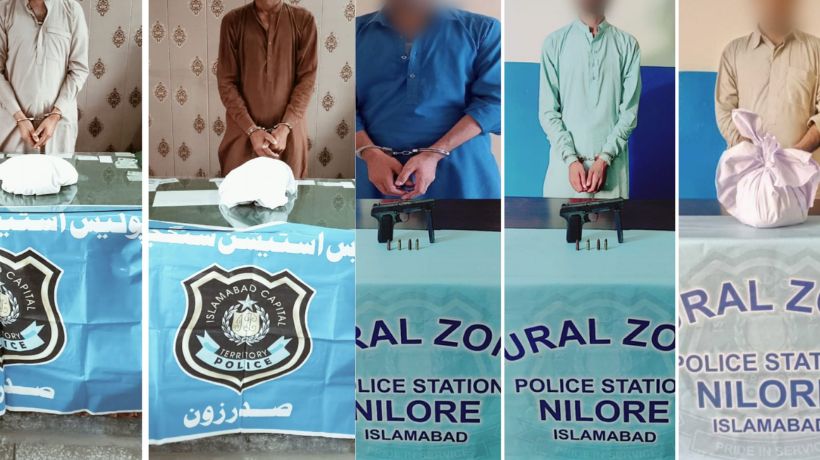 Islamabad was once cool and calm city with almost no crime as compared to cities like Karachi. However, now the crime rate is increasing here too. However, Islamabad police is also active against crime, at least to some extent. Specially, several arrests are being made daily to catch the drug dealers and the illegal firearms bearers.
As in Pakistan, you need a govt permit or license to carry firearms, without that arms license, carrying the firearms is punishable crime. So in that regard too several arrests have been made by the Islamabad Police.
Islamabad Police have a very active twitter account, where they constantly post updates about the criminals or the suspects they arrest. These updates include photos of drugs and arms which police have recovered as well as they also include details of crime and pictures of suspects or criminals. Faces are sometimes blurred to keep the identity secret but other times, those pictures are just posted without any editing to hide or blur the faces.
One such example was this tweet by Islamabad Police's official twitter account (@ICT_Police) where they arrested three men, who had two illegal pistols and lots of drugs for selling. The tweet about the arrest was sent on August 1, 2023 in the daytime and is as follows.
In another incident, about which Islamabad police tweeted on July 31, Islamabad police arrested two individuals who had two kilograms of marijuana in their possession. Islamabad Police revealed the details of incident in following manner.
In another incident, Islamabad Police arrested five suspects, they had two unlicensed guns, ammunition and lots of heroin drug in their possession. Police have not revealed the exact weight of drugs which they secured from the suspects.
Just a day before, Islamabad police arrested two people near sangjani police station and secured illegal weapons and the ammunition from them.
Similarly in lots of other incidents, Islamabad police is arresting lots of suspects while selling the drugs and bearing the illegal weapons along with ammunation. This means crime rate have increased in Islamabad to a new high level. However, good to see at least some efforts are being made in this regard. Hope the good work continues.
Also it is important as well that the ICT police identifies any corrupt individuals within the force or any lazy ones and deal with them as well. But it is a process which will take some time. Also some changes in the processes need to be made, so the system itself identifies the demotivated or corrupt individuals and promotes the honest and hardworking individuals.
Also it is good to see that Islamabad police have opened communication with the citizens via social media accounts and keeps sending updates. This will improve the much needed confidence of People in their police force and make them realize that lots of good work is being done along with some disappointing stories which we often hear.