For the third consecutive week Pak Suzuki Motor Company (PSMC) have wrote letter to Pakistan Stock Exchange (PSX) that they will keep the production of cars closed. In the letter last week and again this week, PSMC mentioned that the production of two wheelers (Motorcycles) will remain operational.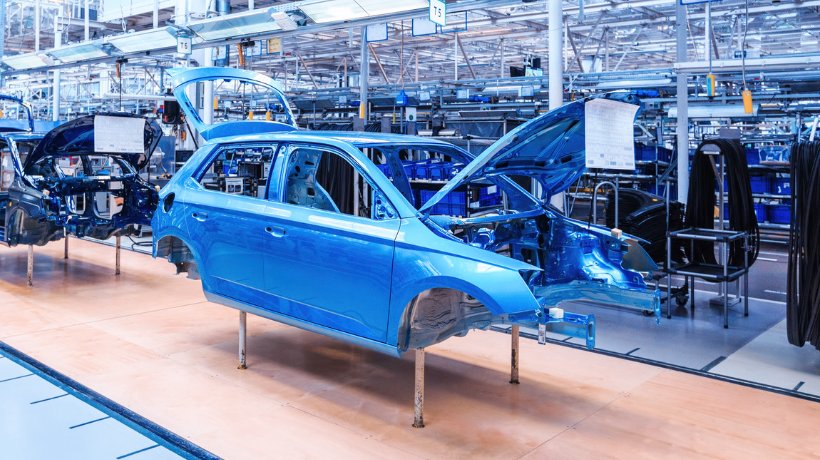 This time, Pak Suzuki have announced that their vehicle production plant will remain closed for another week, starting from Jan 16, 2023 to Jan 20, 2023. However, letter does not mention anything about the resumption of production afterwards. Jan 21 & 22, 2023 are weekend days, so if Pak Suzuki (PSMC) decides to resume the production, it will be on Jan 23, 2023.
The reason mentioned by PSMC for this closure is 'shortage of inventory'. This shortage is due to the shortage of foreign currency reserves Pakistani government have, due to which any one who wants to import anything is facing difficulties in opening Letter of Credit (LC) for import. Obviously for essential items, these LCs can be opened easily. However, auto sector is suffering, as they are not able to import completely knocked down (CKD) car kits, for production of vehicles.
Following is the text of letter that PSMC company secretary wrote to PSX general manager, as per required by PSX regulations sections which are mentioned in the letter itself.
The General Manager
Pakistan Stock Exchange Limited
Stock Exchange Building
Stock Exchange Road
Karachi.

Subject: Shutdown of Plant by Pak Suzuki

Respected Sir,

In accordance with Section 96 & 131 of the Securities Act 2015 and clause 5.6.1 (a) of PSX Regulations, we hereby convey the following material information:

Further to our letter dated January 06, 2022 on above subject, kindly note that due to continued shortage of inventory level, the management of the company has decided to extend the shut-down of automobile plant from January 16, 2023 to January 20, 2023. However, motorcycle plant will remain operative. Further update, if any, in this regard will be communicated accordingly.

You may please inform the TRE certificate holders of the Exchange accordingly.

Yours truly,
Abdul Nasir
Company Secretary

Letter from psmc company SECRETARY to psx general manager
If you are interested in seeing the letter itself, which was written from PSMC to PSX, following is the scan of the that letter.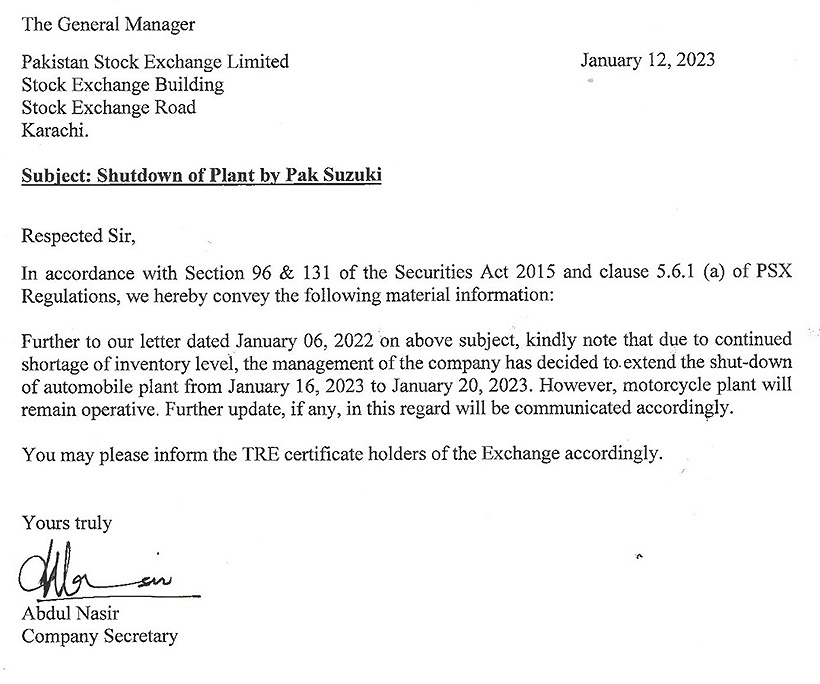 Somehow, somewhere, these Auto manufacturers are also to blame, decades ago when the auto manufacturers including PSMC were given license for local production, they were asked to localise the production of parts needed in just few years. It was actually agreed, however, these auto manufactures including PSMC never put much attention on localising the parts production. They just rely on imports of CKD kits from abroad to manufacture the vehicles.
Only there are handful of local parts which are sourced from local market, the third party suppliers. May be, it is good time for these auto manufacturers to think more towards localising the parts production. This will then help them to keep the production up even when the economy is facing crisis. It can also help country as at first, we will not have to pay for CKD kits in US Dollars and later by importing the surplus vehicles, foreign currency reserves can even be increased.
Regarding the Pak Suzuki manufacturing plant closures, Pak Suzuki had first announced plant closure from Jan 2 to Jan 6, 2023, so plant had to resume operations on Jan 9, 2023. However, only the motorcycle plant resumed operations on Jan 9th. For vehicle plant, Pak Suzuki had extended plant closure from Jan 9 to Jan 13, 2023. Now the plant had to be reopened on Jan 16, 2023, via this recent letter PSMC have again notified that it will not be able to resume operations on Jan 16 and plant will remain close for one more week. Now if the inventory issues are resolved, the PSMC vehicles plant will again start working on Jan 23, 2023.