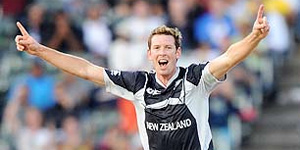 New Zealand won the ODI against Pakistan by just 7 runs. However 'Aamir' the 10th wicket batsman set a world record. On just 101 Pakistan had lost its 9 wickets. But then the 10th wicket batsman played too well scoring 73 while playing along with 'Ajmal' who have scored his career best 33. Pakistan required total 212 to win the match and when Pakistan was in deep trouble the tail-ender Aamir bring Pakistan near to an unexpected victory. When this new batsman came in Pakistan was 101-9 and required 112 runs in just 16.5 overs. In 10th wicket partnership Ajmal and Aamir added 103 more runs to the total which is also a world record as well as the Aamir's own score is a world record as its highest score by a 10th wicket batsman.
Although Aamir and Ajmal performed very well today and bring team near to the victory but they were not able to chase the target. They definitely bring team near to the victory scoring 103 runs in compared to the 101 scored by rest of the team.
By winning this match New Zealand also won the series by 2-1. Pakistan had got the convincing 138 runs victory against New Zealand in first ODI but since than New Zealand won two following matches and won the series. Now its more than a Year that Pakistan didn't won any series in ODI against any team of the world.
Now next Pakistan team will play two Twenty Twenty (T20) matches against the New Zealand. First T20 match will be played on Nov 12th and second will be played on Nov 13th. These both T20 matches will be played in Dubai.