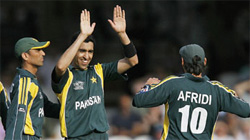 Great bowling performance by Pakistan restricted New Zealand to just 211 score. They were able to last no more than 47 overs and were sitting back into the pavilion just under the 47 overs of their inning. McCullum who scored hundred plus in second ODI was departed on just 76 this time and same was the best score of this match by New Zealand.
From Pakistan side Saeed Ajmal performed at his best by taking 4 wickets. Today's performance was his career best performance. Pakistan is to bat next, hope they perform even better in order to chase the set score.
This is the third and final One Day International (ODI) match of on going three match ODI series between New Zealand and Pakistan. Pakistan won the First ODI of this series convincingly and then in second match New Zealand showing great all round performance took the victory. Now this third match is also decisive in a way that the winner of this match will also be the winner of  series.