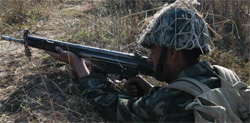 An army official in Wana told the press that some of the Taliban militants were trying to run away from the area. He added that they have tightened the controls around the area from all sides, so no one of the militants can escape.  Every person leaving the area are properly being checked, so that no one of Taliban Militants can leave the area.
Same were the Taliban who were asked by government and security agencies several months ago to voluntarily clear the areas and stay on the base of live and let live policy. But they had no only denied, they started harming the locals, tried to impose their rules and laws to locals and started moving towards the Islamabad after capturing many areas.
But now after operation Rah-e-Raast and when second operation against them is already started, they are trying to escape the areas. But this time army and security forces are committed to wipe them out to have full control of area and to make the lives of local much easier.