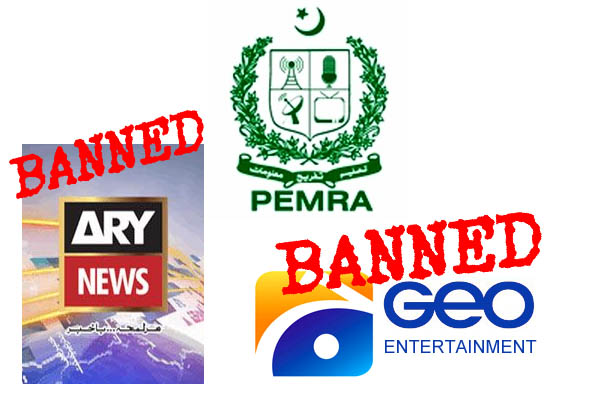 Pakistan Electronic Media Regulatory Authority (PEMRA) have decided to temporarily suspend the licenses of ARY News and Geo Entertainment. Not only this both will will have pay a fine of ten million rupees each. Geo Entertainment's license is being canceled for one month for showing blasphemous content in its morning show hosted by anchor Shaista Wahidi. In addition to 30 days ban on GEO they will have to pay 10 million Rupees as fine to PEMRA.
ARY news on other hand will be banned/off-air for 15 days and similar 10 million rupees fine is imposed on it as well. ARY News is being taken off-air by PEMRA as according to them they have received several complaints against channel suggesting that inappropriate statements about the judiciary were given in one of ARY News' show. They are most probably referring to Khara Such hosted by Mobashir Lucman. Mobashir was already banned from hosting any show by a court but he was recently back, but now the whole channels is banned and being being taken off-air for 15 days.
The news channel of GEO Network called GEO News have just faced the ban of 15 days over remarks about ISI cheif without any proof. They had to be back live today and now GEO Entertainment is gone in trouble.
Share your opinions via Comments Below. Do Like us on Facebook and follow on twitter, from options on right side of this Page to stay updated with the latest happenings, useful info and much more,