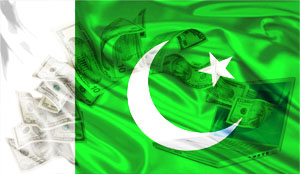 It was not much more than three to four years when I came across a bunch of first few Pakistani websites which started offering sales of products online mostly for their Pakistani audiences. Now these sites are growing tremendously. People of Pakistan still are hesitant from purchasing online due to lack of trust and frauds due to lack of effective implementation of cyber laws in Pakistan.
But the sites offering the products have tackled this with introduction of "Cash on Delivery" options. So they just showcase the products online payments are handled manually, specially when the products are delivered. I also came across some Pakistani administered Facebook pages which were selling T-Shirts and other stuff via cash on delivery option.
Some of these sites offering cash on delivery do have build trust among people, which made people willing to pay them online. A problem came through, when it came to handling online payments, its that local banks in Pakistan still don't offer payment API's which you can integrate to your website and they payment goes to your account. Not only this, the online merchants like PayPal don't offer their services in Pakistan which enable people to pay each other via email or payments to websites via PayPal's integration API, but as I said that not available in Pakistan. Nor people in government done anything to bring these merchants to Pakistan till date, neither they now importance of doing that.
When it comes to Pakistan online customers, these Pakistani online businesses which already have built trust, do fortunately have one alternative to cash on delivery, and that is mobile banking services which enable users to send money via mobile number of other customer involving the receiver's National Id Card (NIC). This works like the first person (Sender) visits nearest mobile banking outlet, given them his own NIC Number and phone number along with the receiver's NIC number and phone number. The second person receives an SMS on his/her phone, then he/she visits nearest mobile banking outlet, shows them the SMS as well as their NIC, after verification the representative on outlet pay them money and update the record online. It stared with one service called Easy Paisa by 'Warid' cell phone operator of Pakistan but now multiple banks and cellphone operators are offering this service now.
So the point is alternatively to cash on delivery some online businesses of Pakistan, after building trust with buyers have started to receive payments via mobile banking and shipping products by courier services. Talking of courier services, Pakistan fortunately have some excellent International names like DHL and TCS working inside the country along with some good local courier services, so that is not problem at all. Coming back to payment, the payment via mobile banking, the process still have to be done manually where both buyer and seller have to visit the nearest outlets, due to the fact that these services also have not API's which could enable online business holders to collect payments online. Pakistanis still will have to wait for services like PayPal come in or local banks offering integration online to collect local payments via webpages itself. Also for local payments mobile banking services along with having manual, time consuming process do have few more limitations. Like they only allow few tens of thousands of money to be sent via these services, this translates to even less in International currencies like not more than few hundred bucks limit if we talk in terms of US Dollar, same is the reason such mobile banking services here in Pakistan are known as micro-finance banking services.
That all talked about local payments and stuff but if we Pakistanis have to go global with our businesses, the  hurdles are even greater, considering the facts like options like "Cash on Delivery" will not be possible if I have to deliver something from Pakistan to lets say a country as far as Sweden or any other country for that matter, also Pakistan based micro finance banking will not be option. Neither, services like PayPal available for Pakistanis in which buyers have control over what they are paying. Credit cards definitely would not be an option because few reasons like, local bank don't offer payment API's to be integrated, foreign services will first be costly plus lets face the fact, who would like to pay a unknown site from Pakistan from foreign with their credit card, where site will have control to deduct as much money as they can.
Though, if PayPal like global services are made available in Pakistan, we stand a big chance in wining global trust. As people will make payments to Pakistani sites via these controlled methods and once they are delivered the products, trust will build up based on buyers' experience, they will start paying with other methods too.
Pakistani government this great challenge of paving the way for bringing in the merchants like PayPal and also must take initiatives to encourage local banks to launch the online payment API's to boost the trade. Otherwise, inside Pakistan online businesses have very good future but going global would not be an option for them, at least now.
Do share your opinions, experiences or questions via comments below. Also LIKE us on Facebook and Follow us on twitter using the widgets on right side of this page.