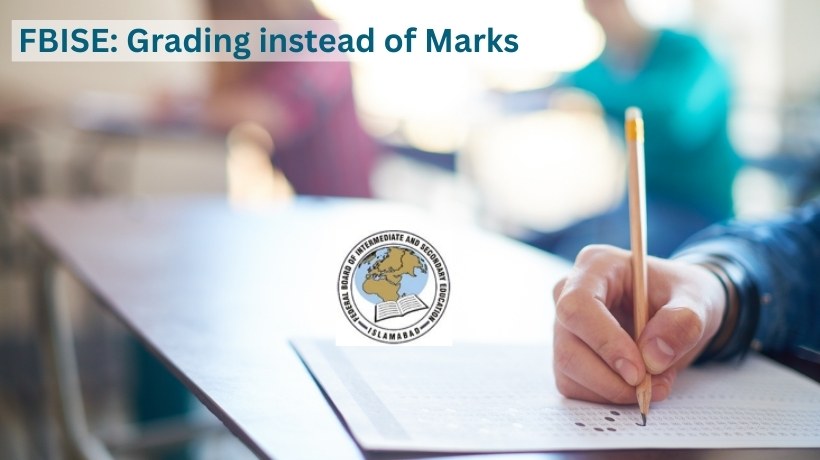 Federal Board of Intermediate and Secondary Education (FBISE) has decided to start announcing the board exam results in a newly introduced grading system, instead of absolute marks. According to their notification, this have been done to stop the culture of race for marks. This will be implemented ultimately for all board exams including the matric exams (9th & 10th) and the intermediate exams (11th and 12th) held under supervision of FBISE. However, from year 2023 it will only be implemented for the board exam results of 9th and 11th classes.
Moreover, it will be implemented for the 10th and 12th classes from year 2024. So for the classes for which this is being implemented in 2023 and 2024, the result will initially be in Grades, GPA/CGPA and Absolute marks. However, in year 2025 when the system would have been implemented for all board exams under FBISE, the results will be only in Grades, GPA and CGPA. Results will not include the marks taken by students in any and all subjects from year 2025 and so on.
The new grading system by FBISE
Grading system consists of Alphabets A, B, C, D, E & U also A and B have one or two plus signs (+) with it in some cases. FBISE have also introduced a Grade Point Average (GPA) and Cumulative Grade Point Average (CGPA) grading systems. Unlike the standard followed by universities of Pakistan, where maximum GPA or CGPA can be 4.0, FBISE calculated the GPA and CGPA on base of Maximum 5.0 CGPA or GPA. However, in my opinion for the better translation and to comply with the existing Higher Education Commission (HEC) standards, it would have been better to have a maximum of 4.0 GPA and CGPA.
Anyways, ther further details of new grading system introduced by Federal Board (FBISE) for matric and intermediate examinations are as follows.
| Letter Grade | Applicable Percentages | Description | GPA Scale (Max 5.0) |
| --- | --- | --- | --- |
| A++ | 95% to 100% | Exceptional | 5.0 |
| A+ | 90% to 94% | Outstanding | 4.7 |
| A | 85% to 89% | Excellent | 4.3 |
| B++ | 80% to 84% | Very Good | 4.0 |
| B+ | 75% to 79% | Good | 3.7 |
| B | 70% to 74% | Fairly Good | 3.3 |
| C | 60% to 69% | Above Average | 3.0 |
| D | 50% to 59% | Average | 2.0 |
| E | 40% to 49% | Below Average | 1.0 |
| U | Less than 40% | Unsatisfactory | 0 |
Notification about Grading instead of Marks
FBISE have already notified the implementation of grading system, which will ultimately go on replace the marks. Notification in this regard, was issued back in January 25, 2023. However, it is likely that many of students and teachers may have missed it, as exams were nowhere near at that times. However, as now the SSC and HSSC board exams are around the corner, it is important that more people know about the new grading system.
By the way, the main text of the notification issued regarding use of grading instead of marks is as follows.
NOTIFICATION

It is notified for information of all concerned that FBISE will communicate in phased manner results of SSC and HSSC levels in grading system instead of absolute marks in order to stop the culture of race of marks. In this regard, it has been decided that grading system for class 9th and 11th will be implemented from Annual Examinations 2023 and for class 10th and 12th from Annual Examinations 2024.

Initially the results will be communicated mentioning absolute marks, grades and GPA. Subsequently the results of Annual Examination 2025 will be communicated only in Grades, GPA and Cumulative Grade Point Average (CGPA).

FBISE Notification regarding grading dated Jan 25, 2023
If you are interested in viewing the notification itself, it is as follows.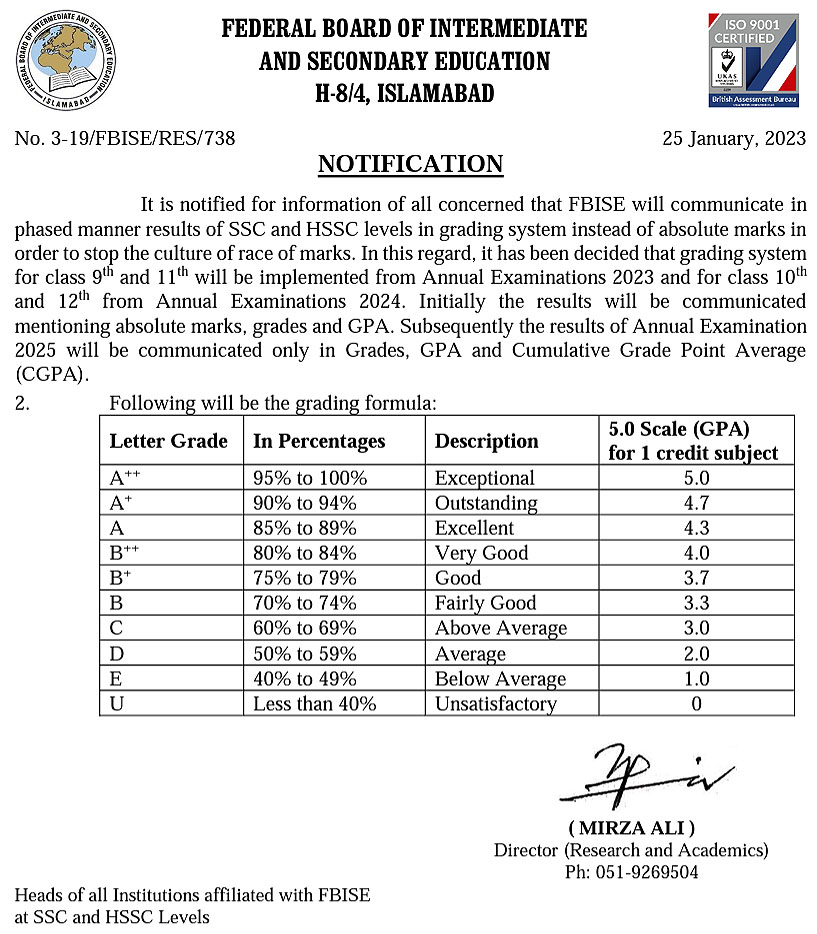 Is FBISE on right path
We will need to see here, what FBISE wants to achieve here. So as per mentioned in notification, they want students to get away from race for marks. So what it means is, they want the students to truly learn the stuff instead of remembering everything in order to get high marks.
But if FBISE truly wants students to learn, only changing the grading system will not going to help FBISE achieving the goal. They will need to change the methods of teaching, curriculum and implement steps to encourage the students to learn stuff, instead of remembering the text written in books. The examiners / paper checkers will need to be trained to evaluate the student's ability according to what he/she wrote, instead of comparing the answer of student with books. Teachers will need to be trained to encourage learning instead of encouraging to remember the stuff.
So broader change is needed, what FBISE have done, can be a good first, step however it will be nothing without what is mentioned above. Without other steps, students who were earlier racing for marks will now race for high grades and high GPA/CGPA. So this step in itself will change nothing. In fact in my opinion, this step could have come much later but the other steps mentioned above and more, are more important.
Change in Passing Marks Percentage
FBISE have recently also changed the passing marks percentage and increased it from 33% to 40%, if you are interested you can see the notification and more details about change in passing marks percentage, on dedicated post on that topic.
FBISE matric exams date sheet
For the year 2023, FBISE have also announced the date sheet of matric exams including both 9th and 10th classes. So if your are interested, do check out the FBISE Matric exams date sheet for year 2023.
FBISE SSC and HSSC Exam Results 2023
Federal board have setup a special page where the results of SSC and HSSC (matric and Intermediate) can be checked. More details about the facility are described here.