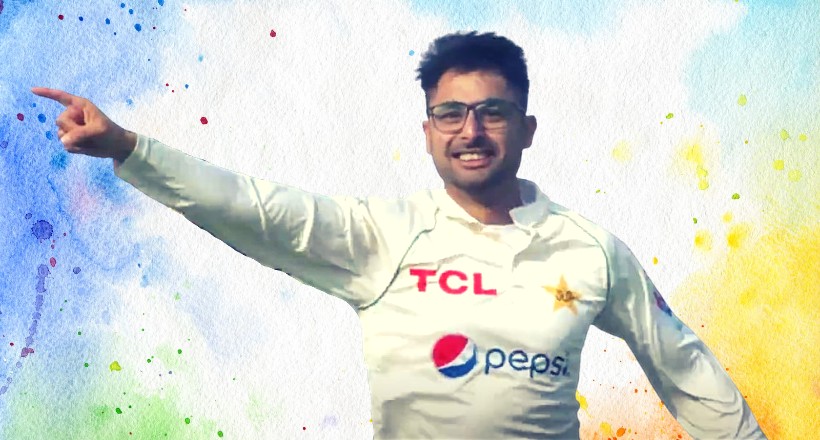 Currently, England's Cricket Team is on tour of Pakistan and three test match series is being played. In fact England won its first test match against Pakistan at Rawalpindi. That match was very close and till the very end, no one knew, who is going to win. England was able to score 657 runs in their first innings in Rawalpindi test.
However, now as the second test match started, a new Pakistani star player emerged from nowhere and achieved what many senior players could not. Abrar Ahmed from Pakistan team debuted in test cricket today, it was his first ever international test match and he took first 7 wickets of England.
Abrar Ahmed took all these seven wickets in a row, from start of the game, all wickets were taken by the Abrar Ahmed until England had lost 7 wickets. This way as Abrar Ahmed broke the backbone of England batting lineup they were not able continue for long. After first seven wickets three remaining were taken by another spinner Zahid Mahmood and in just two sessions, England's batting show was over.
As after collapsing against the Abrar Ahmed's devastating bowling, England's whole team got out after scoring just 281 runs in the first innings whereas in Rawalpindi test match, they were able to score epic 657 runs. But here in Multan Abrar Ahmed with little help from Zahid Mahmood, was able to restrict England from doing big score like Rawalpindi.
However, one difference in Pindi match and the Multan match was that in Rawalpindi the pitch was not supporting the spinners at all early on, also it was dead with no bounce. However, here in Multan, the pitch was much better and it had much for the spinners.
Anyways, today's performance of Abrar Ahmed is enough to keep him in matches for long, so that he establishes himself by trying things and gaining experience. Also if keeps performing well, he can make his permanent spot in the Pakistan Cricket Team.