Team england is on tour of Pakistan these days for three match test series. First Match have already been played, which was interesting battle between both teams but the end England was victorious. Second match is now being played in Multan and last one is to be played in Karachi.
England First Innings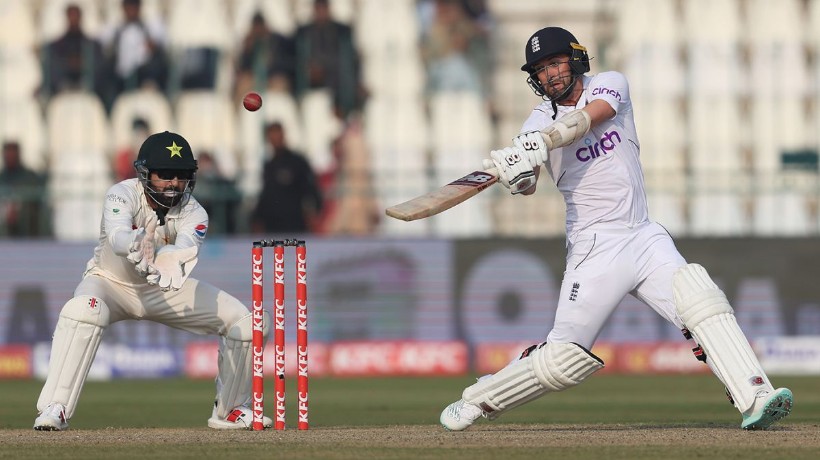 England team, which had scored 657 runs in their first innings in Rawalpindi test match against multan, now have got out by just scoring the 281 runs on the very first day of Multan test match. From Pakistan side Abrar Ahmed, a spinner who debuted on this test match, took first seven wickets in a row. In fact he turned out to be the star player for the day. Remaining three wickets were taken by another spinner Zahid Mehmood.
England while batting in their first innings the top scorer was Ben Duckett, he scored 63 runs while Ollio Pop scored 60 runs. Then Mark Wood scored 36 and he remained not out. Will Jacks added 31 and Ben Stokes added 30 to the total. Zak Crawley, the opener was able to score just 19 runs. Other than these no one was able to enter double figures and all team collapsed on just 281 runs.
From Pakistan bowling side, Abrar Ahmed took 7 while Zahid Mahmood took 3 wickets. Faheem Ashraf, Muhammad Ali and Muhammad Nawaz did not took any wicket. As Abrar Ahmed was taking all the wickets, he was given the chance to bowl 22 overs, Zahid Ahmed, who took remaining 3 wickets, bowled 7.4 overs. Meanwhile Muhammad Nawaz despite bowling 12 overs, was not able to take any wicket.
Pakistan First Innings
From Pakistan side the openers got out very early, Imam ul Haq departed on a duck after facing just two balls. While the second opener Abdullah Shafique got out on just 14 runs after facing 44 balls. After two early dismissals Babar Azam and Saud Shakeel were able to do lots of damage control as they were able to bat until the play of first day stopped. Babar Azam scored 61 runs on just 76 balls and similarly, Saud Shakeel was able to score 32 on 46 balls. This way as the play of the day one stopped, Pakistan had scored 107 after losing just 2 wickets.
From England bowling side, James Anderson and Jack Leach took one wicket each. Pakistan's start was not good with two early dismissals, however as Babar Azam and Saud Shakeel survived on the wicket for long, Pakistan is now in a good position to put up a good total on board, if they can continue the second day play with sensible play and do not take much chances.
Good thing is Pakistan have already scored 107 runs and they still have 8 wickets in hand. They have a very good opportunity to put up a good total and try to win to level the series, one to one. By the way, it will be very early to predict or speculate for any outcome whatsoever. Things will definitely get clearer as the game progresses.