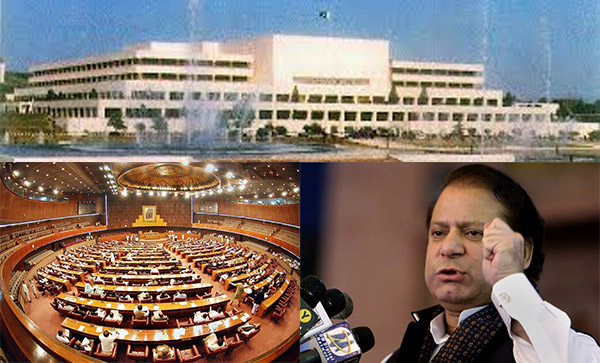 A day earlier when the deadlines were near to be over from both Tahir-ul-Qadri and Imran Khan, and also there were many more chances of clash between protestors and the security officials, Nawaz Sharif brought in Army Chief Gen. Raheel Sharif for continuing negotiations between the govt and Imran Khan and Qadri about their sit in in Islamabad. The news was all over on the media, even the interior minister used the words in his press conference that Prime Minister Nawaz Sharif have invited Raheel Sharif to met both parties and talk about a solution which is good for all.
Later on, on media Nawaz Administration got negative response on his move of bringing in Army Chief for negotiations with other political powers. Things were still not too bad for Nawaz led administration until morning of  Friday when on National Assembly floor Nawaz Sharif denied that he asked Chief of Army Staff (CAOS) Gen. Raheel Sharif to met leaders of both Pakistan Awami Tehreek (PAT) and Pakistan Tehreek-e-Insaf (PTI). This seem straight on lie right on spot, as there was too much buzz on media about Prime Minister (PM) Nawaz Sharif calling on Army Chief in talks the night before, but still his followers believed him. PM had said that the actual happenings were like, Imran Khan of PTI and Tahir-ul-Qadri of PAT had asked Raheel Sharif to met them and work with them to a resolution with government. Later, Raheel asked me (PM) and i allowed him to hold meeting with both leaders conducting Sit-in in Islamabad right now, the sit-ins code named "Azadi March" for PTI and "Inqilab March" for PAT.
But later on, on two different occasions both Dr. Qadri and Imran Khan denied that he asked or even tried to contact Army Chief, Gen. Raheel Sharif. And that they had met Gen. Raheel Sharif as current government had brought in the general itself. Later on things began to be difficult for Pakistan Muslim League-Nawaz (PMLN) leaders as questions were being asked on media and more pressure was put on party on government as well as specially on Nawaz Sharif.
Later on real shocker came when a press release came from Inter Services Public Relations (ISPR) stating that Prime Minister Nawaz Sharif had asked Raheel Sharif to hold meeting with both Imran Khan and Dr. Qadri, and act as facilitator in negotiations. Later on news took off and started trending on twitter after Director General (DG) ISPR Mr. Asim Bajwal tweeted about press release regarding PM's instructions to Army Chief about playing facilitative role to resolve the issue. Tweet was following
ISPR Release:#COAS was asked by the Govt to play facilitative role for resolution of current impasse, in yesterday's meeting, at #PM House

— AsimBajwaISPR (@AsimBajwaISPR) August 29, 2014
The tweet above was retweeted by over 7000 people in first 10 minutes and was Favorited by over 5500 people in first 10 minutes. Also it was picked up by media in just first minute after the tweet have come. I must be first time in Pakistan that whole media picked a social media post so fast. Till now tweet have been retweeted more than 20,000 times and Favorited by over 18,000 people and still stats are going up.
Leaving the viral aspect of tweet behind, it just put tremendous pressure on Prime Minister Nawaz Sharif, his government and leaders/workers of his party. Everyone, was mentioning on media, on social media and in real world that lie of Nawaz Sharif is proven today. A lie at floor of Nation Assembly, a lie which already became part of official record of proceedings of National Assembly of Pakistan on Friday the 29th August, 2014.
After this different explanations from government started coming, the interior minister through his press conference, once again tried to twist the facts his way by indulging people in mechanics and structure of Prime Minster's sentence, by trying imposing a different meaning. But most of his own followers (like Tariq and few more at my office) accepted that the mistake happened from the Prime Minister (in other words he lied), let alone the people who are not very much fond of PMLN.
After, it became clear that Prime Minister Lied on floor of the National Assembly, people gone much more further and constitution of Pakistan's Article 62 and Article 63 were being discussed on all social media sites and specially on twitter. In short both articles contain sections under which to qualify for the membership of National Assembly of Pakistan, as person must be "Honest" and "Truth Speaking", otherwise he must be disqualified and must not be able to hold his seat in National Assembly. This puts much more pressure on Prime Minister and helps both the parties who are asking for PM's resignation, PTI over rigged General Elections 2013 and PAT over killings of 14 people in June 2014 by police when they attacked Dr. Tahir-ul-Qadri's residence in model town.
Feel free to share your opinions in comment section below. Do follow us on twitter and LIKE our Facebook page, all from right side of this page to stay informed with latest and useful information from Pakistan.