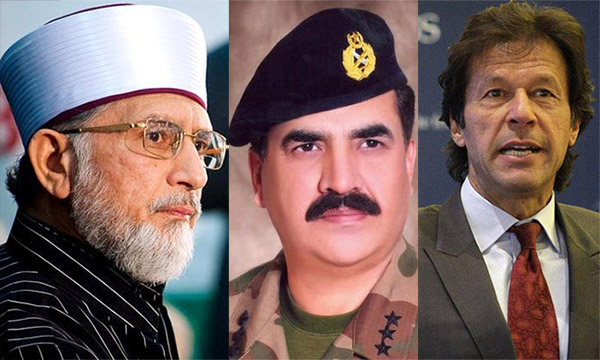 After Dr. Tahir-ul-Qadri had announced that Inqilab March participants will not sit idle at D-Chowk now and had extended the deadline to today, lots happened today. PTI's Azadi March was also at a deadlock situation with government.  Fearing the violence at end of Inqilab March deadline today, Govt of Pakistan today finally registered the FIR against 21 Govt officials and Govt leaders regarding the June 2014 killings out side of Qadri's residence in Lahore. However, as it was demanded by Pakistan Awami Tehreek (PAT) of Dr. Qadri that FIR must be registered under Anti-Terrorism act, government have denied doing that and have excluded the anti-terror aspect from the FIR.
According to a news channel, if govt would have registered the FIR under anti Terrorism act, courts were bound to act on the case within 15 days but now matter can be delayed. As name of Chief Minister (CM) Punjab Shehbaz Sharif is included in FIR Dr. Qadri wants his resignation, plus have denied accepting the FIR without the Anti Terrorism Act. He thinks govt can very well use the delaying tactics and later on can free up the people on whom FIR have been registered.
On other hand Imran Khan is also furious, as government have not done well to accept any of his demands. His demands include the Resignation of Prime Minister, Nawaz Sharif and Resignation of CM Punjab Shehbaz Sharif. He states that resign may be only of one month, just to allow the free and fair investigation of rigged Pakistan General Elections 2013. Which Imran Khan thinks is not possible with Nawaz and Shehbaz still having their Government offices.
Today both, Pakistan Tehreek-e-Insaf (PTI) and PAT were on verge of violent conflict with state police and security agencies, as government is not hearing them very well. However, the prime minister (PM) of Pakistan, Nawaz Sharif have played a new card and brought in the Chief of Army Staff (CAOS) General. Rahil Shareef, for negotiating with both Imran Khan of PTI and Dr. Tahir-ul-Qadri of PAT.
Dr. Qadri after taking suggestions from his people of PAT given 24 more hours to government and gone to met army chief. On other hand Imran Khan also gone to met army chief. As per his speech now, Qadri showed copy of FIR to Gen. Raheel and told it was not registered as per application from his party. According to him Gen. Raheel told he will do first thing in morning is to get this FIR canceled and will make sure Registration of this FIR. Plus Qadri demands resignation of Prime Minister and Chief Minister Punjab.
Do share your comments. Do follow us on twitter and Like on Facebook for latest updates and useful information from Pakistan.