As we enter into summer Natural Gas this year as well gone short on CNG (Compressed Natural Gas) Filling stations as well as in burners of every ones house. Situation till now tells that things doesn't improved this year they rather gone worse in this Pakistan Muslim League – Nawaz (PML-N) Era, as gas vanishes from CNG filling pumps as well as kitchens of our houses.
As per CNG load shedding is concerned its being practiced 5 days each week in this month. Means no CNG for month of November 2013 for 5 days in each week. CNG only open on Wednesday and Thursday each week in Islamabad, Rawalpindi and rest of Potohar Region which includes cities and areas like Attock, Wah, Taxila, Jehlam, Chakri, Chakwal, all adjacent areas to these in addition to Rawalpindi and Islamabad. CNG will even not available for coming months.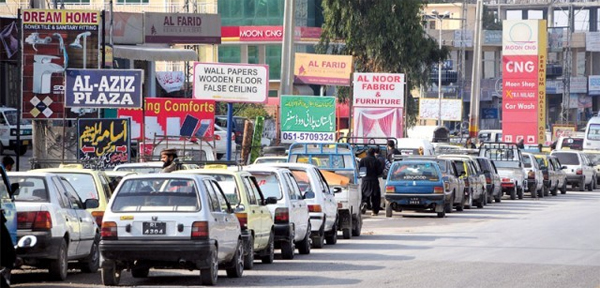 So here is detailed schedule for Islamabad, Rawalpindi and Rest of Potohar region for Nov, Dec 2013 and Jan 2014.
Nov 2013:
Gas Not Available: Friday, Saturday, Sunday, Monday, Tuesday
Gas Opens (Available): Wednesday, Thursday
Dec 2013: Gas will not be available whole month
Jan 2014: Gas will not be available whole month
CNG may resume back in Feb 2014, we will update you with schedule as soon as we receive details about it.
Share your views/opinions via comment section below. Do Follow us on Facebook and twitter via options on right side of this page, to stay updated with the latest.
Latest CNG load shedding schedule for Islamabad, Rawalpindi and Rest of Potohar Region for Nov, Dec 2013 and Jan 2014