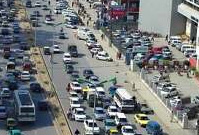 A blast occurred near GHQ about 20 minutes ago, loss of life and other details are not clear yet. The blast occurred just 500 yards away from GHQ Rawalpindi behind the pearl continental hotel. Will be coming back with updates as soon as we get more information.
Update: About at least 10 t0 15 killed and more than 40 are the injured. The nature of this blast was suicide. A suicide attacker blown himself up.
Update: Officially nature of the blast is to be disclosed, 13 of injured are already shifted to the DHQ hospital Rawalpindi. Also few shifted to CMH hospital Rawalpindi.