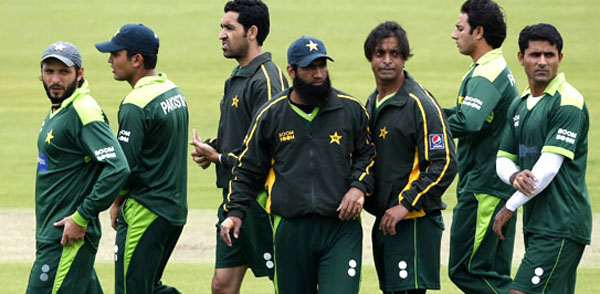 The start of world cup cricket 2011 was somewhat pleasant for Pakistan. With three victories in a row, green shirts are now in a very good position of Playing the quarter finals. The challenging match of all was the one which was played against the Sri Lanka other matches were not technically challenging,  but at some point against Canada Pakistan seem in trouble for a while. Lets have a look over performance of our team in previous world cup matches.
Pakistan VS Kenya
The performance of green shirts was very good in this match. Kenya being the inexperience team, still team Pakistan played so well that they took victory over Kenya with huge margin of 205 runs. Pakistan bated first in this match and given a target of 318 runs to the Kenya's cricket team. Top scorers in Pakistan team were Kamran Akmal (55), Younis Khan (50), Mishbah-Ul-Haq (64) and Umar Akmal (73) all others doesn't even entered double figures, also none of Pakistan player seem able to doing the 100 runs that day. Both openers as well got out in single figures. Razzaq and Rehman both were not out.
Team Kenya wasn't able to do good at their batting as well, during the up hill chase of 318 runs Kenian team lasted only for just above 33 overs and were able to do just 112 runs. For kenya Collins Obuya (47) was the best scorer same for them other than 4 players no one entered the double figure and a number of players just got out at 0 runs. Pakistani bowling was impressive Afridi took 5 wickets. Shoaib and Afridi had the best economy rate (2.0) against the Kenya. Umar gul was also able to take 2 wickets. So it was good job overall by green shirts.
Pakistan VS Sri Lanka
Second match that Pakistan played and won was against the Sri Lanka. It was and achievement for team Pakistan as Sri Lankan were being thought as favorites to win this match but green shirts did well and took the victory, this match was close call though still team Pakistan was able to to pull it off.
Pakistan batted first in this match. Again the best scorers in this match from Pakistan side were Misbah-Ul–Haq (83- Not Out)  and Younus Khan(72). Muhammad Hafeez (32) and Kamran Akmal(39) also did quite well and collectively Pakistan team was able to give 278 runs target to team Sri Lanka.
Sri Lankan's tried well but were able to do 266 runs in 50 overs, it was a close call. They had just one above 50 score by Chamara Silva (57) on their score card in addition to 49 by the captain Kumar Sangakkara. Pakistan bowling was again impressive and Shahid Afridi was again leading with 4 wickets and with the economy rate of just 3.7/per over, over his 10 overs that he bowled.
Pakistan VS Kenya
This match was again won by green shirts but Pakistan performance was bit of disappointment for many. Pakistan again batted first that day but all team was out after doing just 184 runs in just 43 overs. Top scorers from Pakistan side were Umar Akmal (48), Mishbah-Ul_Haq (37) and the captain Shahid Afridi (20). This batting performance can be called poor because if repeated again against some experienced teams in coming world cup matches, it can harm team Pakistan very much.
Again Pakistan did well with the ball and were able to contain the Canada. Canadians were able to do just 138 and were all out in 42.5 overs. At one point it seem like that Ireland winning against England, Canada winning against Pakistan will be second upset of World Cup Cricket 2011 but team Pakistan did well to prevent that. Again Shahid Afridi was on his role with the ball and again took 5 wickets with good economy rate of 2.30 per over in his 10 overs that he bowled.
Pakistan VS New Zealand
This match is the next which will be played on 8th March 2011. Pakistan did well against New Zealand just before the world cup and were also able to win a series against them, so they are very much capable to win this match, what they have to do is plays sensibly while batting and if bat first give a good total ideally more than 300 to convincingly win this match. So best of luck to team Pakistan.
We are look forward to Green Shirts bring World Cup Cricket Trophy back home. Its long awaited and long due now as last time we won this in 1992 for ODIs. So best of luck to team Pakistan.
Do subscribe us via email, join our Facebook and Twitter pages, you can do it all from the bar on right side of this page. We promise useful and informative information in the future for you.