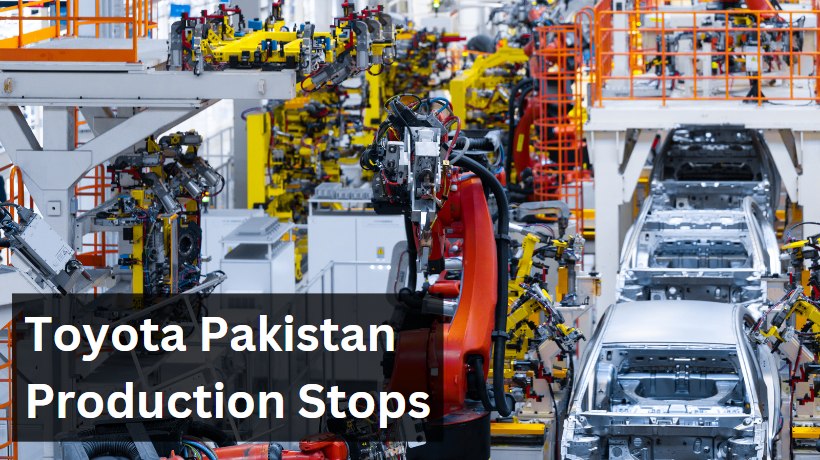 Recently like other Pakistani automakers, Toyota Pakistan is also facing lots of issues due to bad economy and govt restrictions. Currently, as the Govt of Pakistan's foreign exchange reserves have been on lowest of tens of years, there are many restrictions by the State Bank of Pakistan (SBP) to control the outflow of US Dollars. This resulted in difficulties for automakers, to import the Completely Knocked Down (CKD) vehicle kits, which are then used to manufacture the vehicles in Pakistan.
As after not being able to import enough supplies, Toyota Pakistan have announced that they will Keep their vehicle production plants closed in Pakistan starting for two weeks starting from 1st Feb, 2023 up until the Feb 14, 2023. This closure is specifically due to shortage of supplies which are needed to produce the vehicles in Pakistan.
Toyota Pakistan which is listed as Indus Motor Company Limited (stock symbol: INDU) has revealed the details of closure in a communication to Pakistan Stock Exchange (PSX). All all the companies listed on Pakistan Stock Exchange are required to communicate about any production cuts etc by the PSX regulations, so that is why, this communication was made.
Indus Motor Company communicated details of closure to the PSX in following words.
In accordance with Section 96 and 131 of the Securities Act 2015 and Clause 5.6.1(a) of PSX Regulations, Indus Motor Company Limited ("Company") hereby conveys the following material information:

In light of the recently introduced mechanism vide EPD Circular No. 20 of 2022 dated December 27, 2022, (effective from 2nd January, 2023), Commercial Banks are advised to prioritize / facilitate the imports to specified sectors only, which does not include auto sector. The company and its vendors continue to face major hurdles in import of raw materials and receiving clearance of their consignments from commercial banks. This has disrupted the entire supply chain and the vendors are unable to supply raw materials and components to the Company.

Accordingly, the company has insufficient inventory levels, therefore, the company is unable to continue its production activities.

In view of the above, the Company has decided to completely shut down its Plant from 1st February, 2023 to 14th February, 2023. Moreover, the company has also decided to start its production on Single Shift basis from 15th February, 2023 until further notice.

You may please inform the TRE Certificate holders of the Exchange accordingly.

Indus Motor Company's communication to PSX
Previously, Toyota Production was also remained closed from December 20, 2022 to December 30, 2022 due to this same shortage of supplies. Now as well a the productions start on Feb 15, 2023, Toyota will only work on single shift basis as per mentioned in the communication to PSX.
Toyota is not the only only one which is facing these difficulties, most recently Pak Suzuki also kept its production plants closed for at least three weeks in Jan 2023.