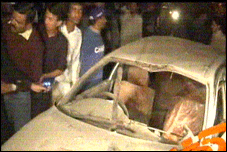 Explosion took place a while ago in Paposh Nagar area of Karachi near a graveyard. Explosion took place in a car injuring many people, police told possible reason of this blast may be the faulty CNG kit installed in the car. However more investigations will follow on this.
As firstly heard the explosion spread panic in the city and people were suspecting it as a militant activity. As the Karachi city has been so far un-effected by on going militancy in the other areas of the country. We will be coming up with more info on this as its released.
Update 1: It is not fully clear that the blast was really due to CNG explosion. The injured people also include ranger personals, women and children and they have been shifted to the Abbasi Shaheed Hospital Karachi.